When trying to build a successful real estate business, one of the most important things to master is how you represent yourself online. So, if you want to show you're professional and well-organized, you should try using some of the best real estate plugins.
Combined with a #RealEstate theme or even without one, these #plugins will help you set up a perfect #website.
You can choose from a wide range of real estate plugins based on many factors such as price, effectiveness, features, and so on.
To make things easier for you, we checked out many of them and picked the best ones, which we will describe in detail in the rest of this article!
1. Real Estate Pro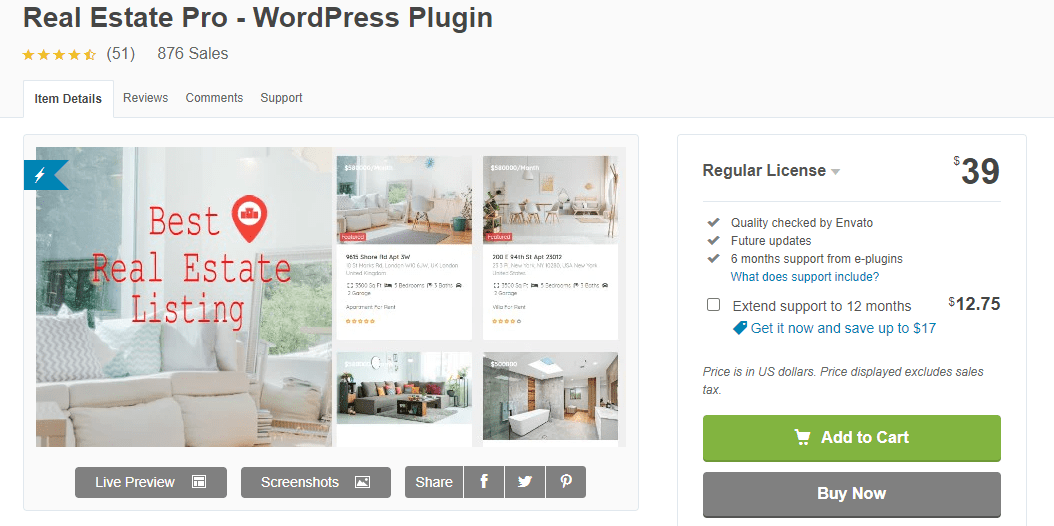 Real Estate Pro is a premium WordPress plugin that will make your real estate business run much smoother. It is a fully responsive plugin that enables users to do everything on their own. They can add listings and claim them, sell properties, write and manage reviews, hold auctions, make bids, and do so much more.
The plugin is very easy to use; its interface is not that much different from any other website that deals with selling properties. Basically, with the help of this plugin, anyone can just log in or sign up to your real estate website and uses it right away.
Real Estate Pro is translation-ready, and it supports alternative payment methods like PayPal and Stripe, so you do not have to worry that your users' payments are going to be declined. It also offers different email templates you can send to your users if they have any inquiries regarding sales, payments, security, and so on.
On top of all this, it is integrated with Visual Composer, a WordPress website builder that will make your real-estate website look professional and aesthetically pleasing.
The regular license for this amazing plugin is just $39, so for a very little amount of money, you can take your real estate business to the next level. 
2. Estatik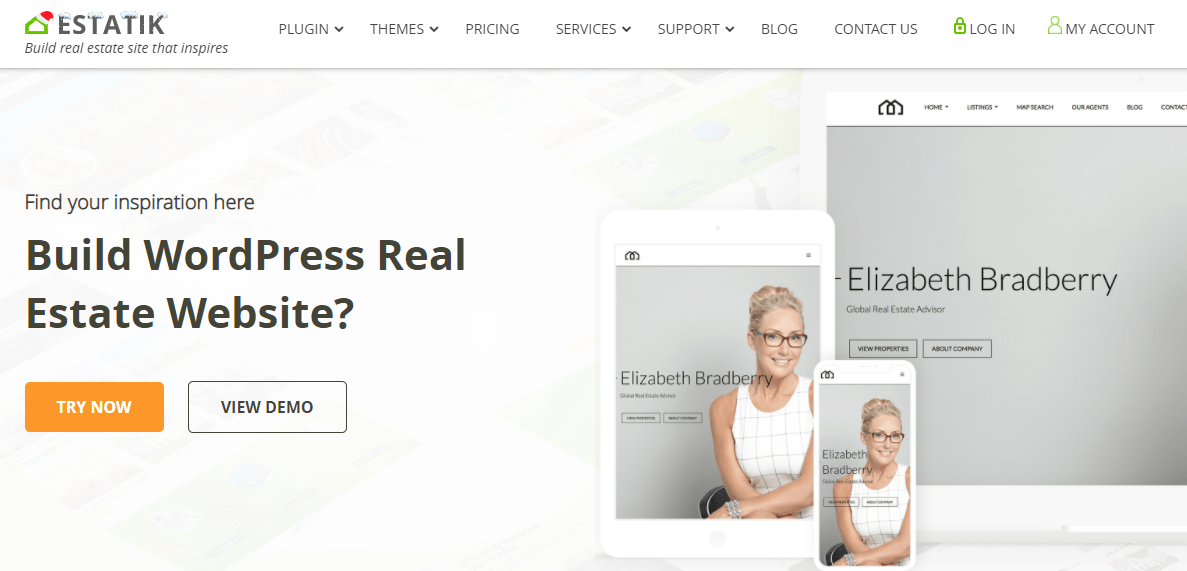 No matter if you are a solo agent or a company, the Estatik plugin will make your real estate business run smoothly and your website a favorite among users. Why? Well, because it is fully customizable and allows you to do so much. For example, using its field builder, you can incorporate everything from attachments and descriptions to files and numbers.
You can sort properties using the many filters that Estatik offers, which include price, popularity, date, etc. You can also search for specific categories, types, features, and much more to get the best possible offers when looking for a property.
The plugin has an integrated photo and video gallery to which you can add videos from YouTube and Vimeo to better showcase your listings. Also, the option for social sharing is very handy as well; because it helps you reach more clients by sharing your website on different social media platforms.
The plugin comes with five native themes that will work with it perfectly.
This is a freemium plugin, which means that if you are just starting out, you can use it for free with limited features, but there are other versions with more features. The prices go from $89 per year to $489 per year, depending on the type of business you currently have and what you hope to achieve. 
3. Essential Real Estate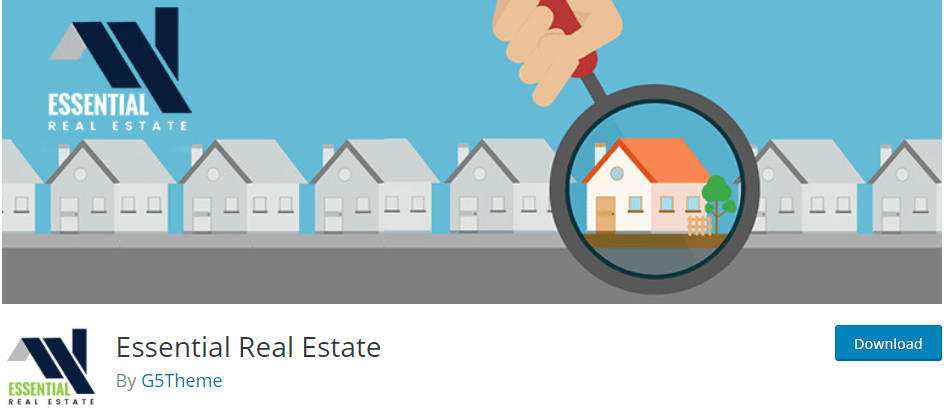 Essential Real Estate is a plugin packed with features that are easy to customize and overwrite. It offers many templates, so you just need to choose one that is most suitable for a particular property. Using it, you can manage and submit property listings with such ease that you will want to do it just for fun, not because it is your job.
Essential Real Estate offers global payment, and it accepts a lot of currencies, so you can take your real estate business to an international level.
Its comparison tool allows you to see what kind of deals you are getting on certain properties compared to other websites and properties on your own website as well. It also has a 360-degree view tool, so you can look at properties from all angles.
You can use your existing social media accounts to log in or sign up for Essential Real Estate, meaning there is no need to create an account and memorize yet another password.
Essential Real Estate is a free plugin with premium features that you will absolutely love and should try out as soon as possible. 
Conclusion
If you are starting a new real estate business or if you want to take your existing one to the next level, these plugins are just what you need. They will make your life easier by making your business better, more efficient, and easier to handle.
Your clients will appreciate the change, and I know for a fact that you will too.
Essential Real Estate, Estatik, and Real Estate Pro are all top-notch plugins that are easy to use and will stop you from wasting any more time and money trying to operate your real estate website manually.
You really need to do yourself and your business a favor and install one of them because doing so will make your real estate business grow, evolve, and attract more customers from all over the world.