Nearly everyone has seen the late-night infomercials showing a once-chubby movie star suddenly transformed into a svelte diva thanks to the help of some diet plan.
Before-and-after images help the consumer envision through other transformations what you might be able to do for them.
While not all before-and-afters are as dramatic as others, there is still a place for them in most business models.
Conversion rates vary drastically across different industries. Overall, e-commerce averages 2.86%, but the rate varies by country, industry, and even size of business. Instead of trying to beat the conversion rate average, you should compete against yourself by striving to improve conversions on your site consistently. Before-and-afters grab site visitor attention. When used wisely, they can boost conversions. Here are seven reasons before-and-afters are great for conversions and how to use them on your site.
1. Relate to the User
Before-and-after photos often show the results of real people using a product. Your site visitors relate to the people in those photos, especially if you've chosen your models based on your target audience. You'll gain far more traction with your target audience by showing another customer's results than you'll ever get by talking up your product. The public tends to distrust businesses and their motives, so you have to offer them more proof than your word alone.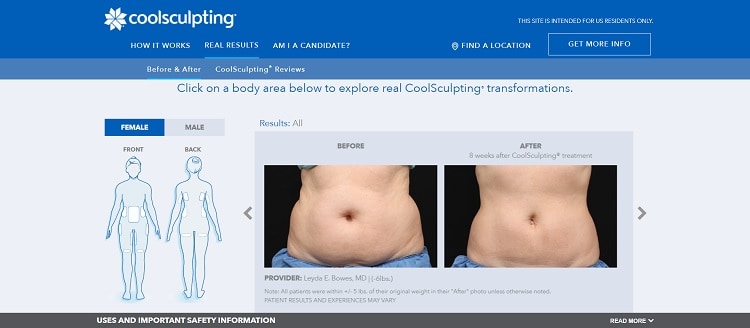 CoolSculpting offers a gallery of images showing the benefits of their treatment and the changes in clients. You can click on any image to get details on the exact procedure the person received, and how you can get the same benefits.
2. Improve Your Reputation
If you want one of the best websites around, show users the changes in your business over the years and why you're the perfect choice for them today. Every company has growing pains, and you may have developed a reputation you feel you don't deserve. With careful use of before-and-after points on how you've fixed those issues, you can win your customers back over and assure new ones you've improved in those areas.
3. Show the Potential
Some people find it challenging to envision the value of investing in a project or making a change. They can't quite imagine what the finished product might look like. This lack of imagination is often a problem with home improvement projects, design work, and even beauty. Most people are visual, and they have to see what the project will look like when finished. Once they convert into leads, you can customize your approach, but when they first land on your website, you have to help them imagine the possibilities by showing them what you've done for other clients.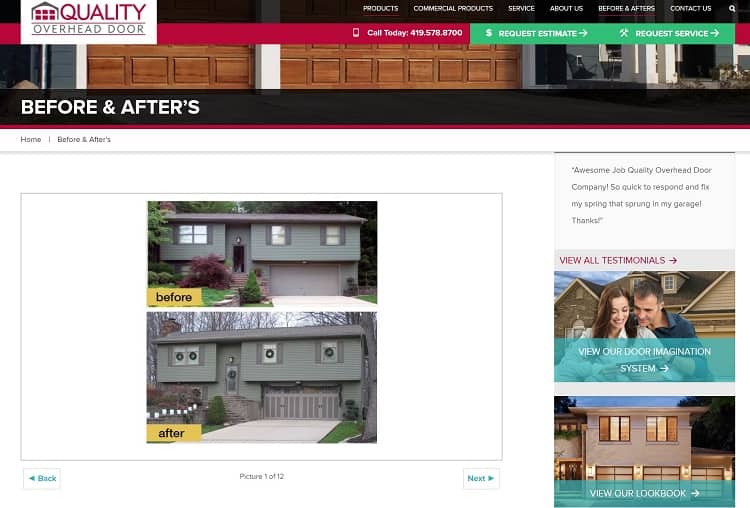 Quality Overhead Doors solves this problem by offering a complete gallery of before-and-after photos of their doors. First-time visitors can see how updating a garage door beautifies a home and get ideas for styles they might like for their houses.
4. Grab Attention
Humans are visual. We can process an image 60,000 times faster than words alone, which is probably why about 90% of the data our brains process is visual.
When you use images, you immediately send a message faster and more effectively. Our brains have all the tools they need to process and understand before-and-after photos.
Adding them to your website adds instant understanding, which is much more likely to convert visitors into leads than any other method.
5. Prove Your Point
You might have a ton of scientific data proving a product does what you say it does. However, you could be wasting your time presenting potential customers with an extensive copy. Most people won't read all the text on your page because they prefer to skim. You can lay out all your facts, but the reader may never look at them in-depth. Adding photos enhances the information you provide. You could even do the before-and-afters in the form of an infographic with text overlaid on top to prove your point. You can also use before-and-afters on social media and add descriptions to explain the transformation.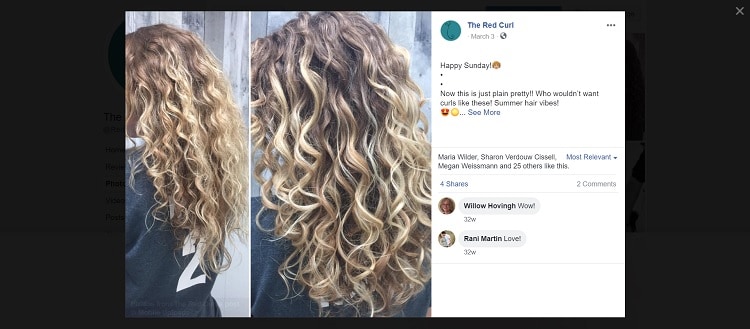 The Red Curl hair salon has a website with a few before-and-after shots, but they do an even better job demonstrating the drastic changes in people's hair on their Facebook page. In the "before" photos, customers' curls are frizzy and undefined, and in the "after" images, the curls are bouncy and beautiful.
6. Highlight Dramatic Differences
While not everyone will experience a drastic change from using your product, some people will.
Showing the more remarkable changes can help highlight the potential of your product when used under ideal conditions.
To effectively use before-and-afters for dramatic effect, you have to seek customers who have experienced the most noticeable results. Show the perfect home remodel or the teeth that went from yellow to bright white.
7. Display the Benefits
Have you ever attended a home show where a presenter showed you a powerful cleaner that took the worst stains out of carpet and clothing? Before-and-after photos let you display the benefits similarly, showing a drastic difference that highlights the benefits of using your product or service.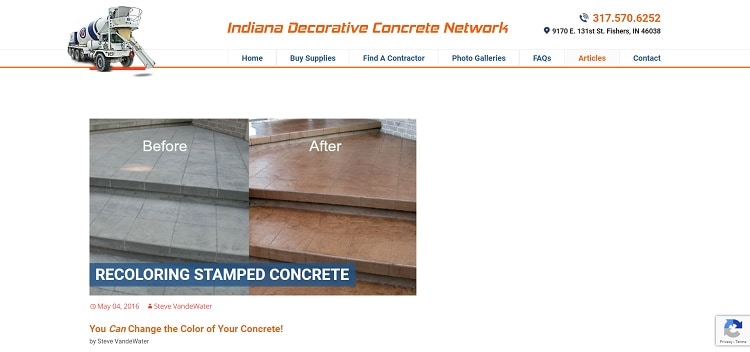 Indiana Decorative Concrete Network highlights a before-and-after right on their landing page. You can see what benefits using one of their treatments brings to your home. If you want to see more examples of their work, they offer a complete gallery. However, they don't use before-and-after images for every type of work they do, sensing they want to make a dramatic statement and then let the user make up their mind based on their other work.
Deliver Results
Make sure your before-and-after photos are authentic. If you want to not only attract new customers but keep them for the long term, you must provide a product that delivers what it promises. If you overpromise and underdeliver, your customers won't trust you and will tell others not to trust you either. Work at improving your product before you ever present a before-and-after-style promise. Your images should help not only convert customers but keep them, as well.