More and more work is conducted online these days, and computers have become pretty much essential for any business. However, because of that, it can be quite a challenge to maintain control over your employees and keep track of who's doing what.
You think your employees have been slacking off at work lately? Take a look at what they are up to with these great online tools for #employee #monitoring!
Fortunately, technology is here to help business owners handle that task since it offers plenty of online tools intended for employee monitoring. All you have to do is just pick the right one for your business.
To help you make the right decision when picking a tool, in this article, we will present you with some of the best ones that you should seriously consider.
InterGuard

The first on our list is InterGuard, a cloud-based software with all sorts of useful features. All the basic things you would expect from this kind of product are part of the package: you can keep tabs on the users' web activity and e-mails, see how much time they're spending on social networks, even monitor the live chats they engage in. But that's just the beginning.
With this tool, admins get a very handy feature that will enable them to create a variety of alerts that will be triggered once certain conditions are met. These alerts can be used to warn a user about an action they are about to perform, or they can be used to notify the admin.
Also, the amount of security this tool will provide you with is very high since it can not only block the programs you don't want but can also use geolocation to determine a user's whereabouts and even access the files on a stolen computer in order to retrieve them.
Although it may take a while for you to get a firm grasp on all the features InterGuard offers, it's certainly a great product to have, especially because you can test it out for free. If you do decide to buy it, you can subscribe to it on a monthly, annual, or bi-annual basis, and the price per user goes down the longer your subscription is and the more users you have. That being said, the tool's starting price is 25$/month for five users.
ezClocker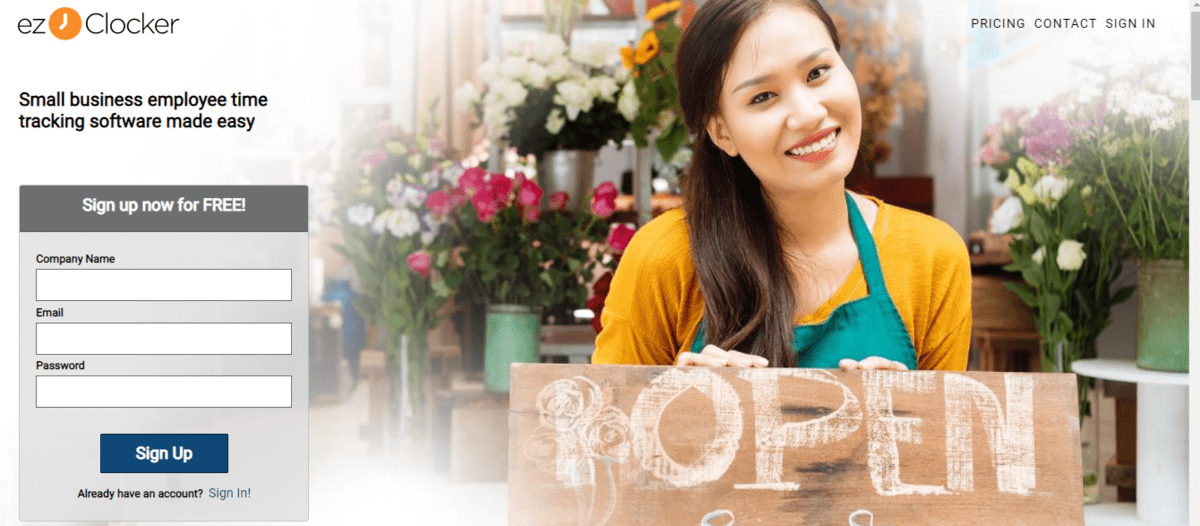 ezClocker is a simple to use and affordable time tracking software for small businesses. If your employees are not tech-savvy then this app is a great choice for you.
You can use ezClocker kiosk app to turn your tablet into a portable time clock or you can allow employees to use their own mobile device to clock in.
Employees can clock in with a touch of a button, view their schedule, and total hours worked. Employers use ezClocker to view timesheets, create schedules, view overtime and export time entries to process payroll.
Other features include restricting employees from clocking in early to help avoid overtime. This application also allows employees to pick a job when clocking in for labor job costing.
Veriato
Veriato is another powerful tool in this industry that deploys AI and big data to help keep track of things and detect anything that would represent an unusual activity. Naturally, things like web activity, e-mails, apps, and documents are closely monitored, but there is much more to this product than just monitoring the basics.
Veriato will take screenshots of user activity and even make video recordings which can then be checked by the admin. This allows very precise monitoring of each user and helps provide the right context for any action undertaken. Whenever a rule is broken, an alert can be sent to the admin in real-time, along with additional data showing all the details about the incident (time, place, etc.). Time is also an important factor for this tool since it can trace the amount of time an employee has been inactive.
Using Veriato, reports can be sent out on a daily, weekly, and monthly basis, and the data in them can be analyzed by the software in a variety of ways, so you can see which things were done hour by hour or how each employee spent their time at work.
For this tool, you can get a free trial that lasts 15 days, just enough to test the product. Regarding the price, the company doesn't directly state it until you contact them, so we can't give you any accurate numbers. But by some reports, it seems, that for about 10$ per user you can get a 1-year subscription which allows you to have at least 10 users on it.
Hubstaff
Hubstaff is a great product to use if you want to monitor your employees. And although it focuses primarily on monitoring their productivity, web activity will be closely monitored as well.
As we've just said, the focus with this tool is on a user's productivity, so the software will track their active and inactive time through keyboard and mouse usage. Not only that, but Hubstaff will also allow you to see how much time a person has spent on a particular task. This information can help you plan your business strategy in greater detail once you see how much time on average a task takes. On top of that, the software will help you monitor every user's productivity, which can help you distinguish the most valuable members of your staff.
All of this information is documented through screenshots that are initially generated randomly but can be scheduled according to the admin's wishes.
The cost of this software depends on the price plan you choose (there are four of them in total), and there is a free trial included in all of them that will last you 14 days. And while there is a free plan (the most basic package), it doesn't really offer much when it comes to features. Other plans range from 5$ to 20$ per user on a monthly basis, with a discount for people who have an annual subscription.
Teramind
Last but not least comes Teramind, a product primarily aimed at larger corporations and used to help them prevent any loss of data as well as security breaches.
As for the capabilities of this tool, webpages, apps, documents, instant messaging, e-mails, all of it is carefully monitored and tracked. You can even keep track of what your employees are printing!
One of the best things about this software is that it enables you to see who is online and on what device, which allows you to filter through all of the collected data very quickly. It is also possible to define what kind of behavior will not be accepted and to assign a certain amount of risk for every type of unwanted behavior. This can later be used in reports to help assess the risk your employees are causing.
When it comes to pricing, there are three tiers of price packages, the cheapest one costing 60$ for five users on a monthly basis. But the interesting thing about them is that each of them comes in a cloud or an on-premises version, so you can choose whichever suits you better.
Kickidler
Kickidler is one of the best employee monitoring software to monitor employee activity and to effectively track staff productivity.
It offers a range of features that enable managers to monitor employee activities, track time and attendance, and analyze performance metrics.
One of the key features of Kickidler is its real-time monitoring capabilities, which allow managers to see what employees are doing on their computers at any given time. This includes tracking web browsing activity, application usage, and even keystrokes. The software also includes a screen capture feature, which takes screenshots of employee desktops at regular intervals, giving managers a visual representation of how employees are spending their time.
With employee productivity tracking tools. Managers may quickly define typical staff productivity using the program, as well as identify the most driven experts and those who are most prone to procrastination.
Conclusion
Besides the tools we presented you with, sure, there are many other ones you can use for employee monitoring. But whenever someone is recommending the best tools in this industry, you can be sure that you will come across these 4 every time.
In order to make the best choice, analyze your needs first, and only then decide on a tool. Also, remember, when it comes to any of the tools we mentioned, it's very difficult to go wrong with either one.