It is crucial for all websites to be available to users at all times. But sometimes, websites and URLs go down due to technical difficulties such as hardware problems and network issues. Even though most (reputable) web hosts "promise" not to have these issues, they can still occur from time to time.
#Downtimes are usually unintentionally caused by your #hosting provider, which is why it is best to set up notifications in case your site goes down.
Another potential reason could be DDOS attacks that hackers use to take down websites.
Big businesses/organizations can afford to have teams that take care of these problems but smaller businesses and/or bloggers are in a much tighter spot. It is up to you to take care of everything on your own, which means that a lot of work can add up and you simply won't have time to implement all measures.
In general, downtimes can cause sales loss, damage your brand's reputation, and leave you vulnerable to hackers. This is why you want to get notified as soon as your website goes down so that you can quickly fix any problems.
Website monitoring services regularly test your website and notify you if any problem is detected. Even one broken plugin can cause your website to malfunction, which good monitoring services will notice and report back to you.
Now, I'll show you a couple of useful services that'll make your life much easier.
If your website, app, or store goes down, get notified immediately and take care of the problem from the start. You'll receive notifications to your phone, email, Slack, and even SMS if you're offline. They also provide error logs, screenshots, and have a detailed event timeline that provides all the needed information for debugging purposes.
The sooner your start debugging, the sooner your website can get back on track.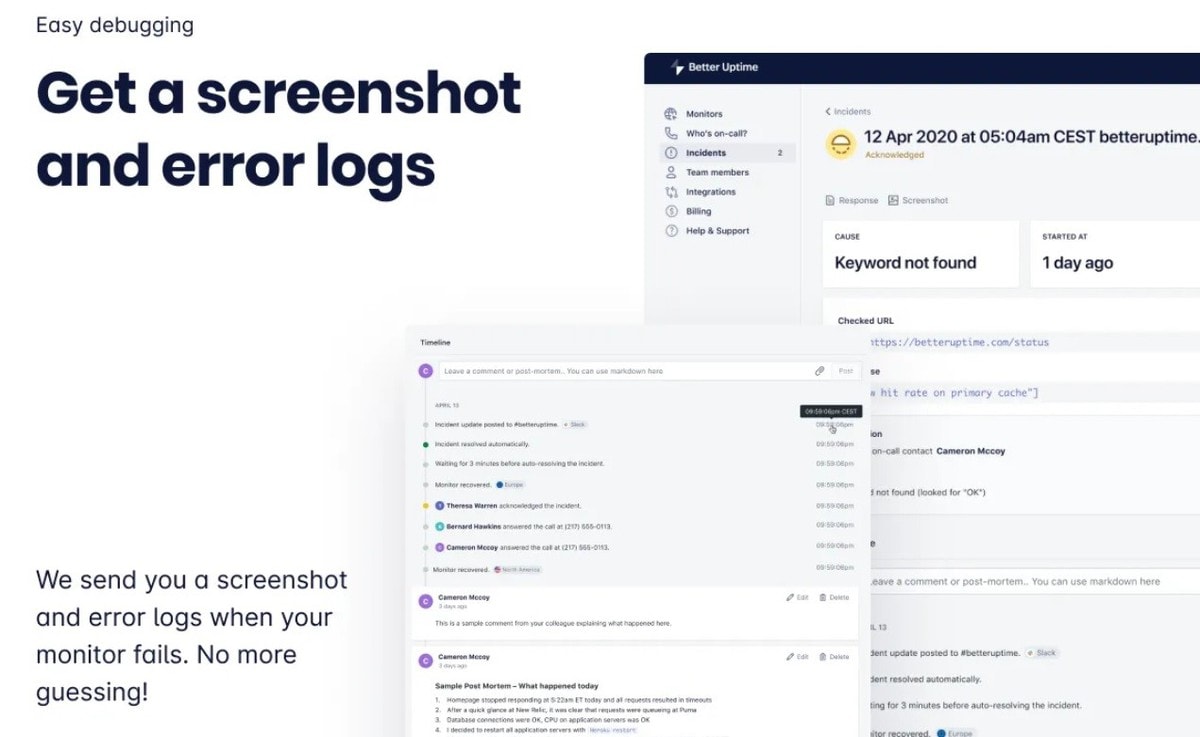 Receive screenshots and error logs that help you better understand what your problem is and most importantly, why it happened!
Better Uptime makes debugging easy as it gives you a second-by-second timeline for each problem.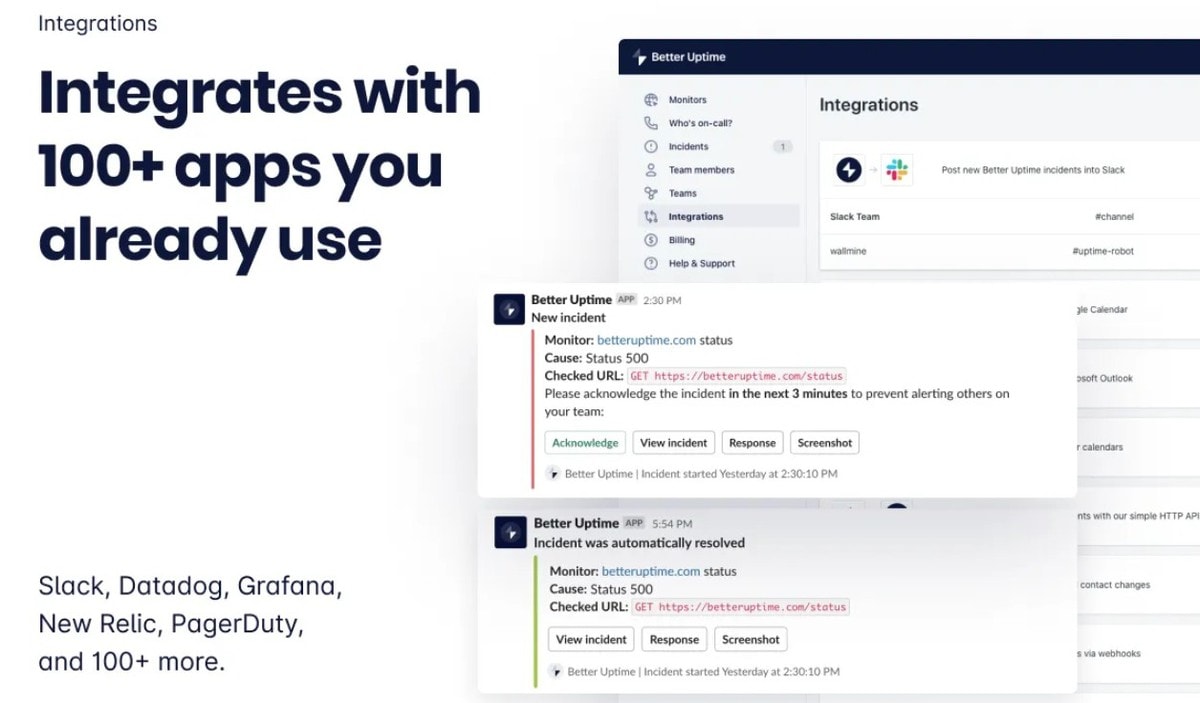 To many users, integration is key when they're looking whether to get a service or not. The good news is that this service integrates with more than a 100 apps and allows you to connect all your infrastructure services.
You can also synchronize with third-party services such as Zendesk, Heroku, Datadog, New Relic, Grafana, Prometheus, and so on.
Keep in mind that you can raise alerts from mentioned services. For example, if you're running out of memory or disk space, get alerted as soon as possible.
There is also support for fast HTTP(s) and ping checks.
Heartbeat monitoring for your CRON scripts and background jobs make sure you don't lose a database backup.
Once your site is down, get notified via email, SMS, Slack, or Teams messages.
Alerts can help you minimize your site's downtime by notifying the person in charge.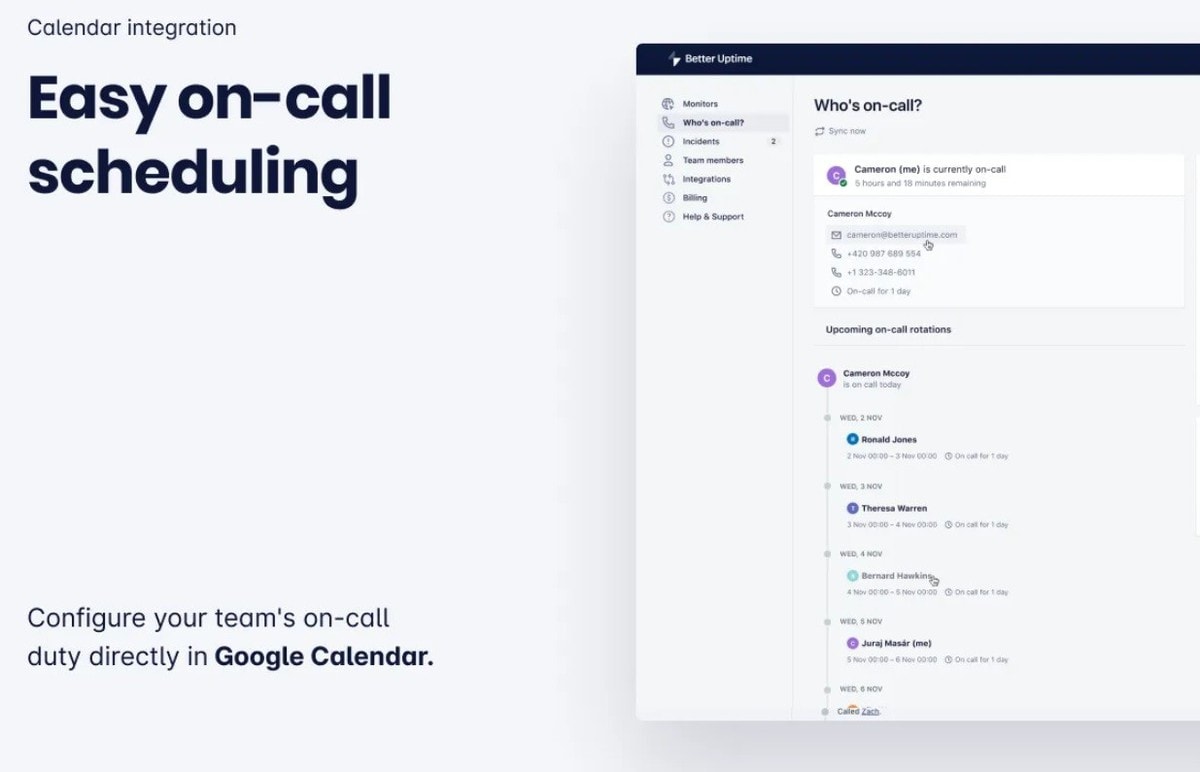 Configure on-call duty rotations via Google Calendar or MS Outlook, which makes it easy to alert your staff when they're needed.
The person in charge can easily notify others that they've started taking care of the problem with just one click. And if they are unavailable, you can use smart incident escalations and set them up to alert others on your team. You can even write a short description and let others know why something failed and how you managed to fix the problem.
If you're just starting out, simply go with the "Single" plan and it should be enough. However, if you're running a larger business, you'll most likely need to spend more but that won't be such an issue since Better Uptime is available on AppSumo starting at $49 for a lifetime deal.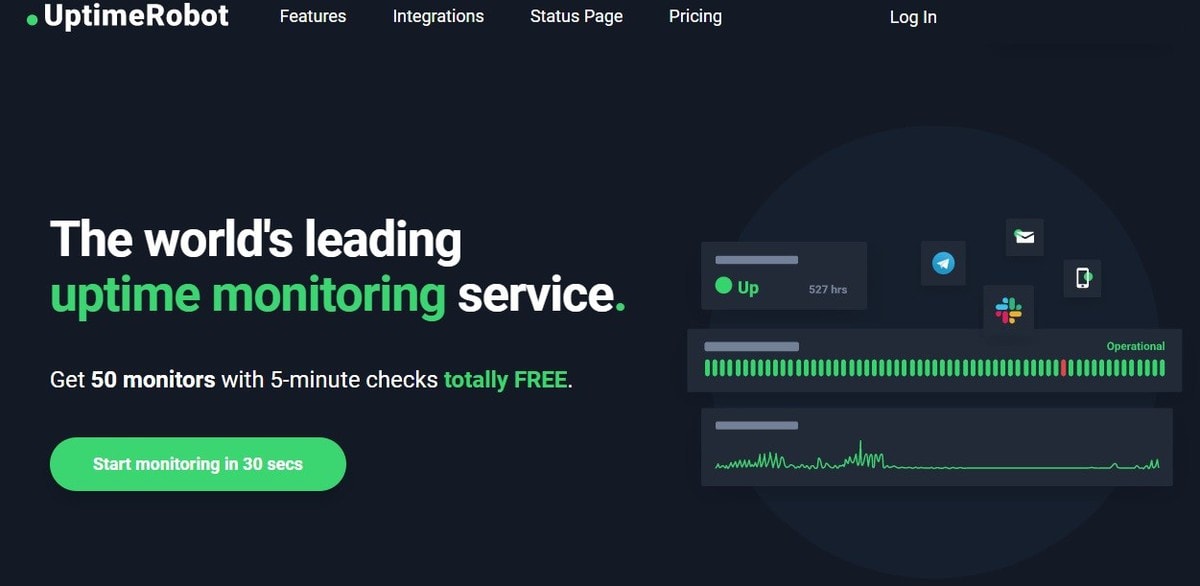 One of the most popular uptime monitoring services thanks to its quite tempting free plan. They offer website, SSL certificate, port and ping, as well as CRON job monitoring. There are also advanced features such as response times, keyword monitoring, maintenance windows, custom HTTP requests, multi-location checks, and share incident updates.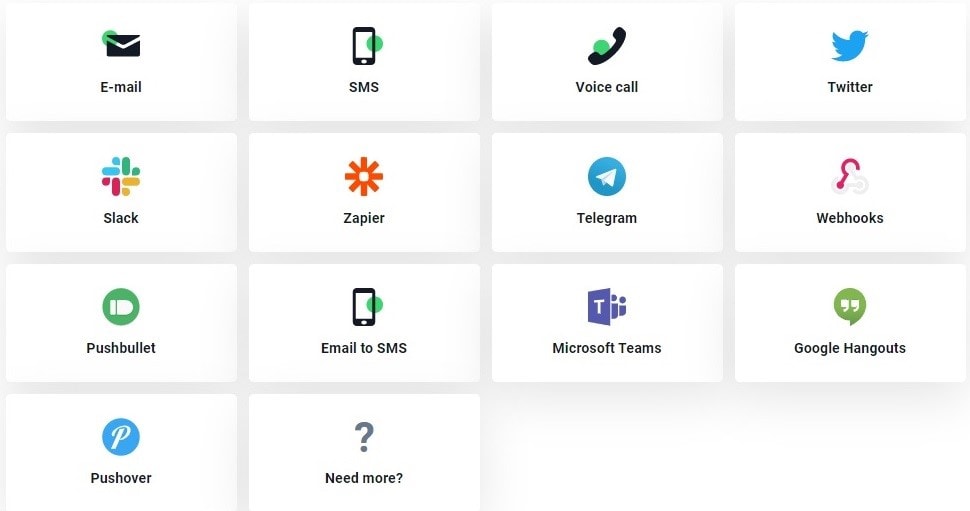 Integrate with your favorite services such as Twitter, Slack, Zapier, and more.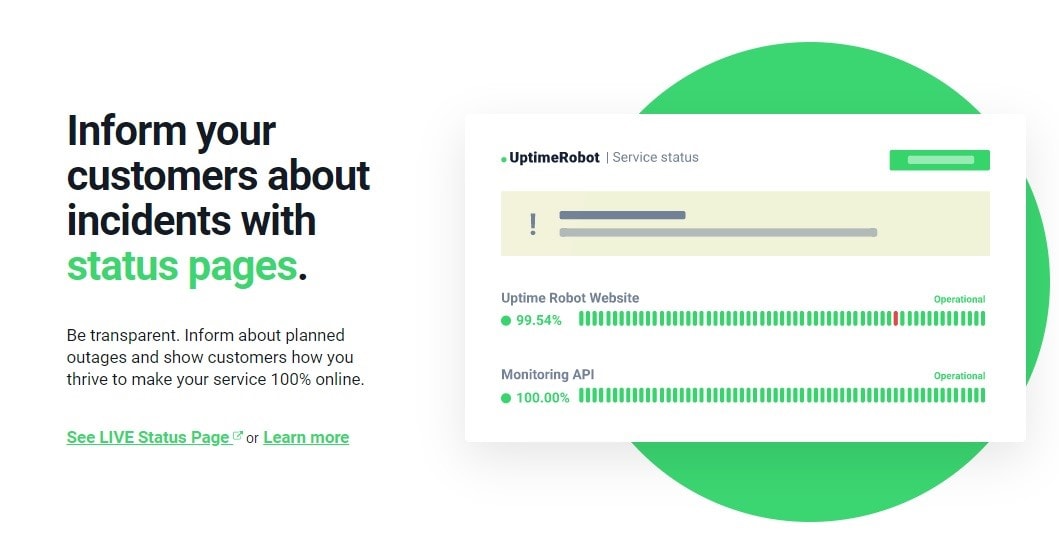 Keep your customers in the loop and let them know how long you'll be away by using email notifications.

You can share an internal status page only with your teammates by setting up a password protected status page.
I highly recommend everyone to try out their free (limited features) plan just to see how the whole thing works. And if you need more, be ready to fork out your hard-earned money as these things can get a bit pricey.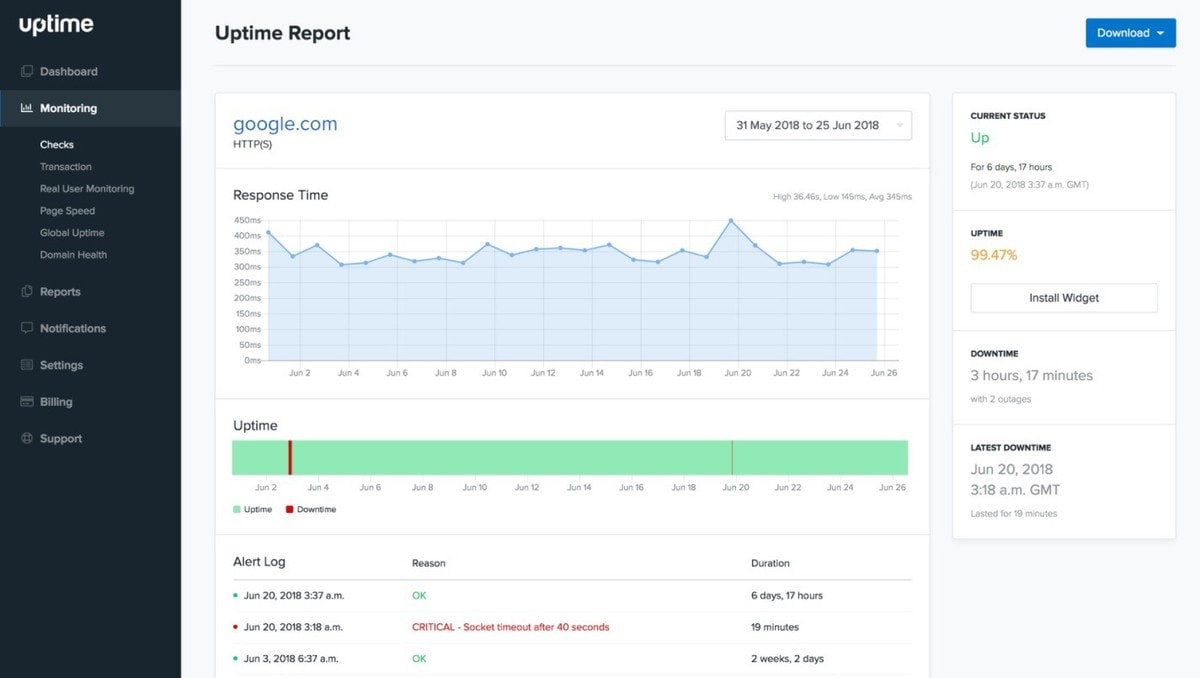 Effortlessly monitor real-time, actionable server performance, website performance, and receive domain health insights. Receive website downtime alerts via SMS, phone call, or email. Check your website availability each minute from 30 different locations.
Comprehensive Domain Monitoring
Easily monitor domain health and identify critical issues: Web, DNS, Email, Blacklist, and so on.
Real User Monitoring
Use analytics, trends and page load time analysis to optimize the user experience on your site.
Flexible & Detailed Reporting
Useful summaries and graphs help you create private dashboards, public status pages, and SLA reports.
Seamless Integrations
Quickly integrate with your favorite third-party tools and services.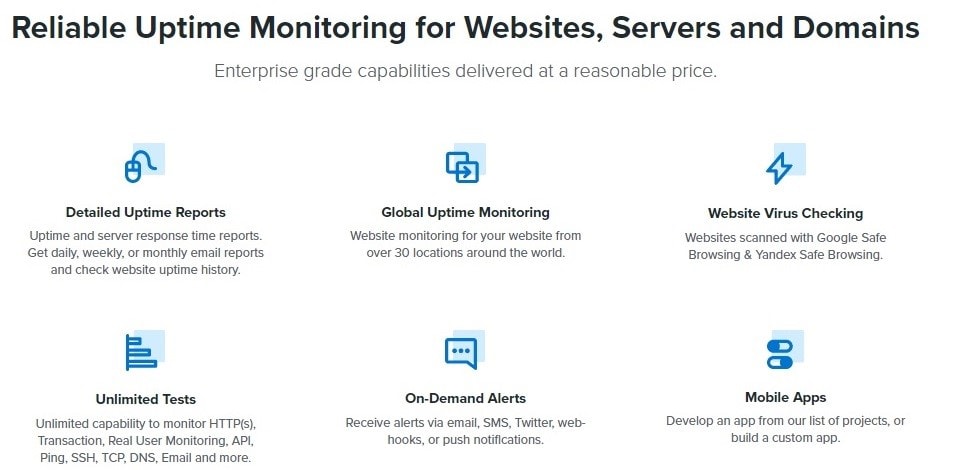 Take advantage of detailed reports and set up alerts to minimize your site's downtime.
When it comes to price plans, there are a lot of options, so pick the one that best fits your budget.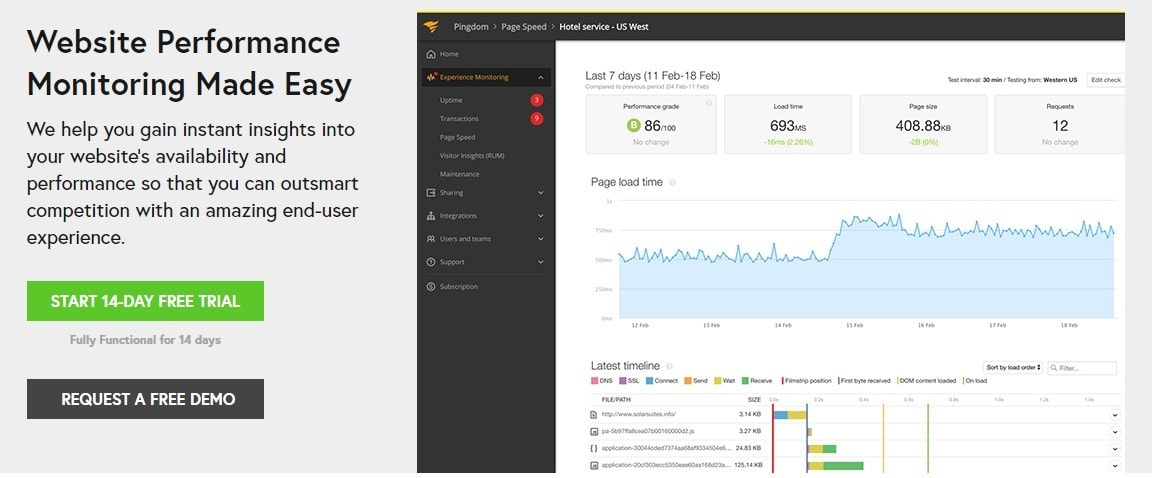 Gather useful insights and take over the competition with the help of various tools and features. Synthetic and real user monitoring combined offer superior visibility and advanced debugging. Receive alerts as soon as something goes down.
Synthetic Monitoring – simulate various interactions and/or case scenarios for both your website and web app(s) to see how they'll perform and if they'll cause any problems.
Uptime monitoring – monitor from more than 100 locations all over the world.
Page speed analysis – find out why and when your website is underperforming.
Transaction monitoring – test all sorts of transactions such as user registrations & logins, search, checkouts, URL hijacking, and so on.
Real User Monitoring
See how actual end users interact with your site and what their user experience looks like with scalable Real User Monitoring (RUM).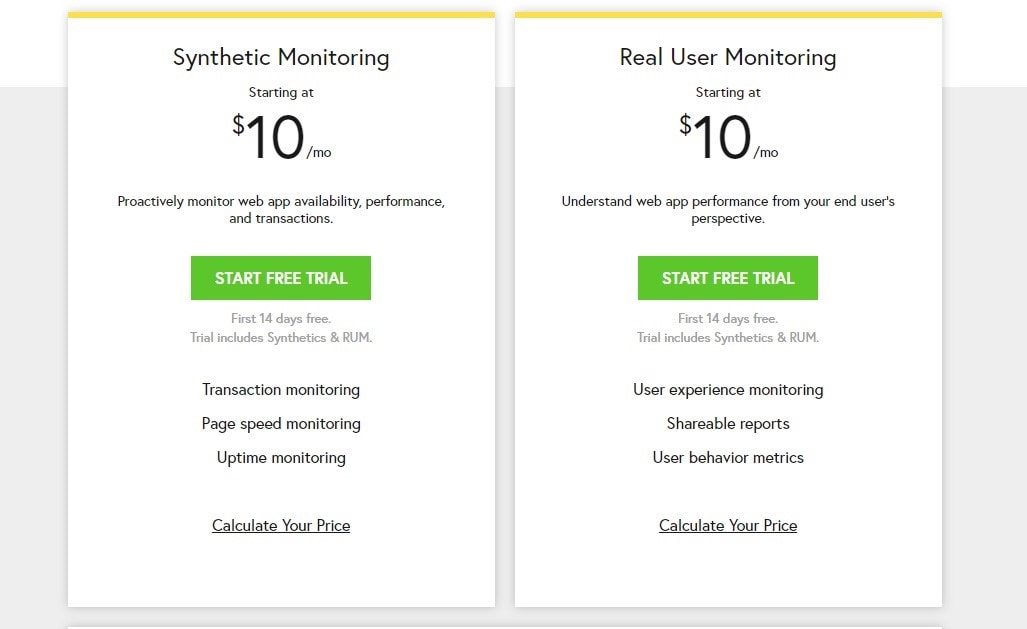 Make sure to check out Pingdom's configurable plans and pricing here.

One of the most advanced all-in-one solutions for monitoring websites, servers, apps, networks, and more with somewhat flexible pricing.
Monitor Website Performance
Track performance of services such as HTTPS, DNS server, FTP server, SSL/TLS certificate, SMTP & POP servers, URLs, and more from over 110 locations.
Server Monitoring
Identify any server issues by using root cause analysis capabilities.
Synthetic Web Transaction Monitoring
Record and simulate user interactions and optimize web elements accordingly.
Application Performance Monitoring
Find out which application servers and app components cause errors.
Real User Monitoring | RUM
View the experience of real users as well as analyze and segment performance by browser, platform, geography, ISP and so on.
Public Status Pages
Notify users about your service status and when you'll be back.
Log Management from the Cloud
Gather, search, and troubleshoot issues using server logs and datacenters.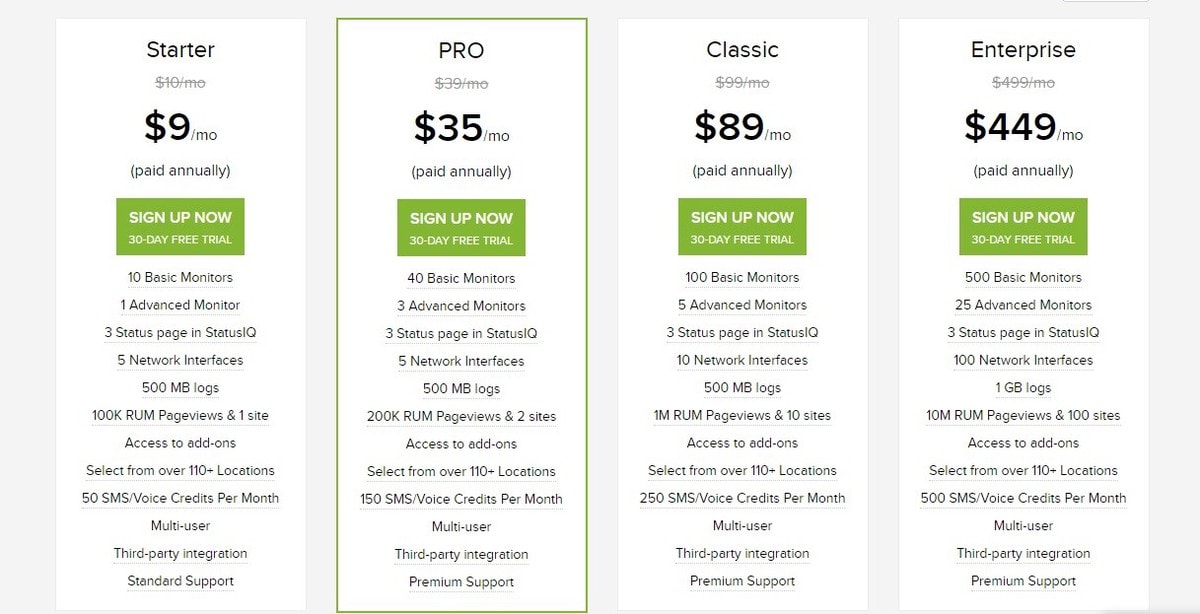 Try out their forever free plan and/or get the one that suits you best.
Conclusion
As you can see, there are many viable options to choose from and they all have their pros and cons. For example, UptimeRobot has the best free plan in my opinion but if you're looking to spend money I'd look elsewhere since it is on the pricier side.
The best all-around (alternative) service, in my opinion, is Better Uptime as it offers lots of useful features for a good price and is also quite easy to use. However, it is completely up to you to find the one that works best for your monitoring workload(s).