Every business structure is constructed with numerous sectors that branch out to different roles to establish a good organization and a plan that drives you towards success. Every role withholds significance with its value to be added for completing the bigger picture. There are many different business models, and everyone has their own style of operating, but doing so in a chaotic environment with no organization in sight is something we definitely want to avoid.
That's where human resources kick in to save the day and precisely plan out the daily activities to ensure that everything gets done timely and according to some previously established rules. This aspect might seem like the party pooper, but let's face it – without HR, not a lot of work would be done. In addition, human resources take care of many other essential fields, including hiring, management, compensation adjusting, employee satisfaction evaluation, followed by quite a few other important tasks that need to be carefully handled to reach the optimal level that makes your goals much closer to achieving.
But, it's not uncommon that those tasks become overwhelming and with so many sectors that require your attention, it's only a matter of time before something slips. The next step is clear – digitalize your workflow by obtaining proper human resource management software.
Human resource management software exists to automatize your workflow and unlock countless possibilities for a clean, slick, and freshly optimized environment for business triumphs.
There are numerous options available on the market, so to ease your decision-making process and help you pick the best one for your needs, here are the top 5 SaaS for human resource management:
1. Bamboo HR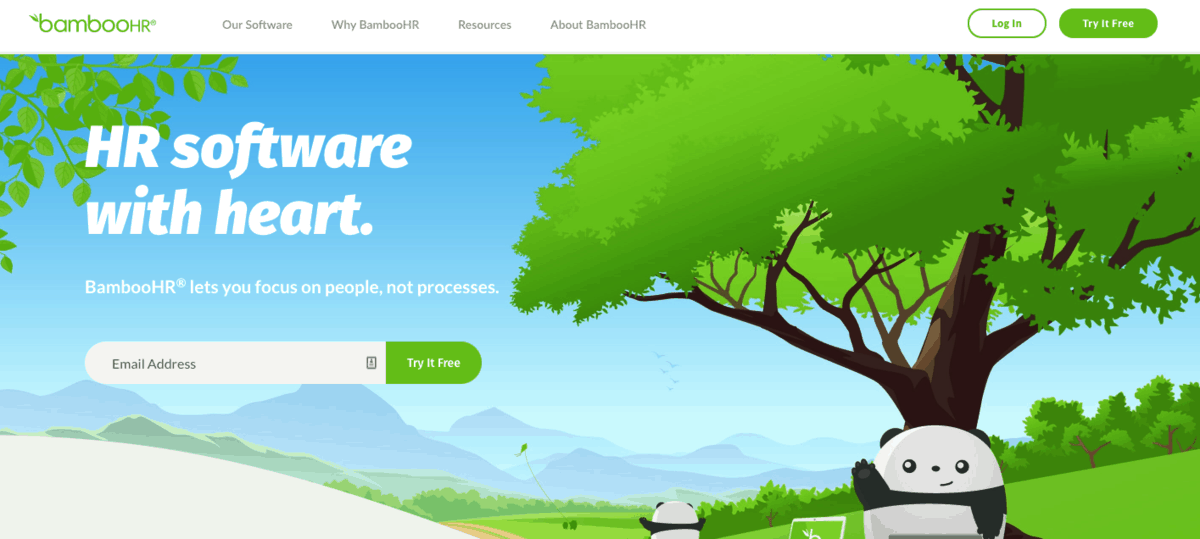 Bamboo is one of the most popular HR management software, and for a few good reasons. The first one is their advanced applicant tracking system that allows you to maintain fluent communication between you and candidates, add permission to your team members to cooperate, and share thoughts, thus allow their involvement, create an employee database, with many more innovations in stock.
Furthermore, their onboarding system is packed with preboarding and onboarding tools that ensure steady task distribution, something like an employee task list template, and productivity enhancement. Their performance management software is also at your disposal, that allows you to track your employees' performance and always keep an eye out on your highly-performing or under-performing teammates. And that's just scratching the surface since this software is packed with more features like automated reminders, electronic signature software, reporting and analytics, and so much more. The true all in one tool to fly your business on the next level,  and when they say that they let you focus on people and not on processes, they really mean it!
2. Zoho People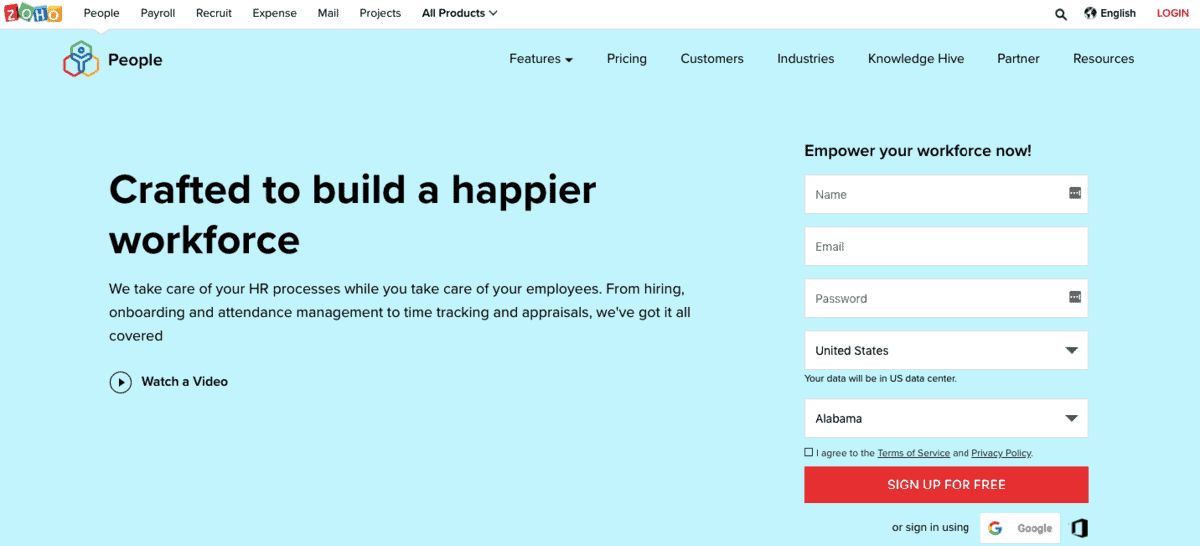 Oiling up the machine that your working environment is, fits perfectly into Zoho's main objective. It functions by erasing those obnoxious manually oriented work tasks and tucking them neatly in the cloud for you to access at any time, therefore allowing you to focus on the work that really matters. When it comes to the juicy part of every SaaS – features, here's what Zoho People has to offer:
Employee onboarding for getting your new employees familiar with your projects in a split second, personalized workflows for the ultimate organization structure, get insights on progress from every task, and more
Timesheets management that helps you in tracking your employees' work hours, detailed reports of daily accomplishments, generating billing statements, etc.
Automate your HR tasks by utilizing the responsive interface with triggers for notifications, alerts and other gadgets to maximize your productivity
A custom form builder that can be customized with a drag and drop builder, control access for employees and managers, collect information and so on
With many other features available, and the pricing per user that starts at $0.9, this software could be exactly what you're looking for.
3. Bitrix24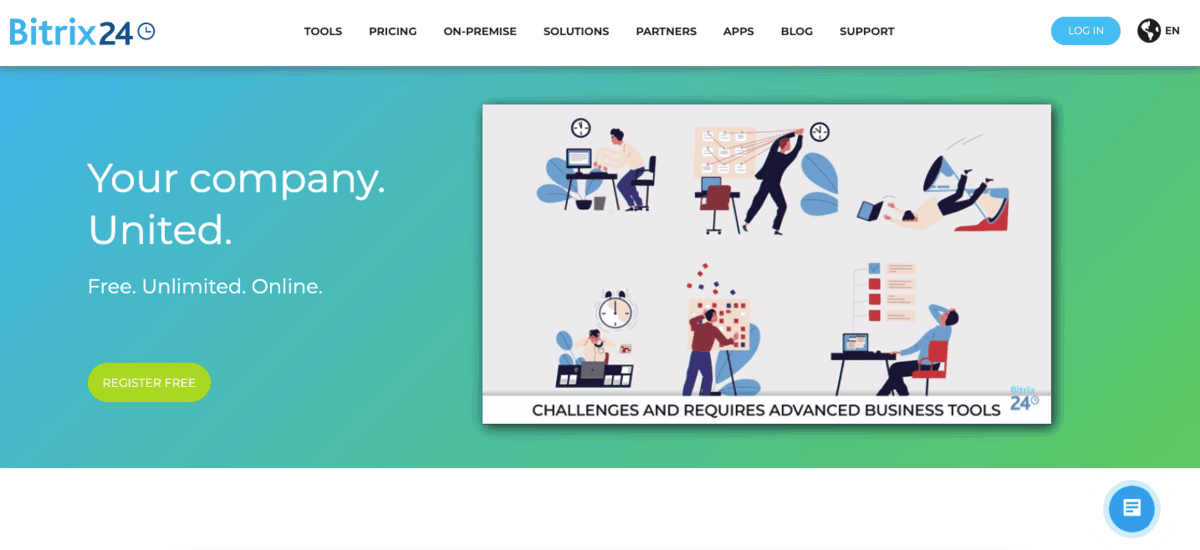 The cool guy everyone knows about and is always there to give you a helping hand. Bitrix24 has received insane recognition and recommendations from thousands of consumers because of its versatility, capabilities and an insane amount of users. Let's get through a few of them to meet this handsome devil and see why it is such a fan-favorite:
Centralized Employee Directory with customizable profiles, contact information, staff timeline…
Organizational Chart with a visual builder, visibility settings, projects…
Time management where you can set up breaks, supervision, different kinds of reports, absence charts…
Employee management with many different options, even the cute ones like birthday reminders
Recruiting for scheduling interviews, job boards and so much more
And that's only scratching the surface since this software possesses dozens of features that weren't included which means that you simply must check them out!
4. PeopleHR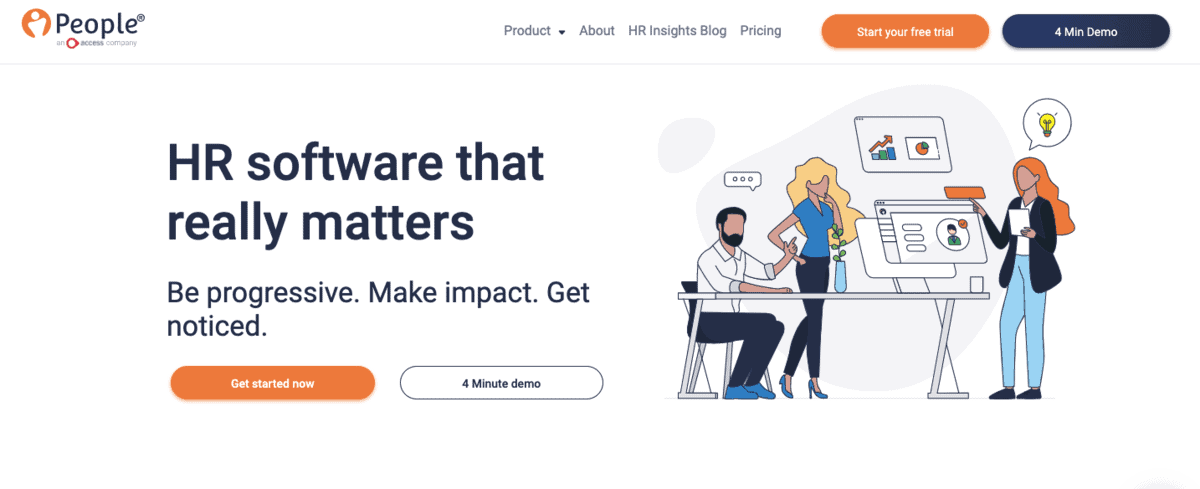 Another exceptional software that provides everything you're looking for in an HR management software. People unlock the ultimate workflow opportunity with its careful craftsmanship through:
Automating repetitive HR tasks where everything can be easily tracked and noted in one central system
Applicant tracking system for publishing, shortlisting and hiring candidates with standards set to ensure all of your requirements are being set
Detailed reporting with the drag and drop builder to keep everything playful and simple but still insightful and detailed
Employee management system to set different goals and targets thus motivating your coworkers and still getting precious insights on their behavior
With many other features available, this software represents the true value that an HR management software can possess.
5. HR Cloud by Kissflow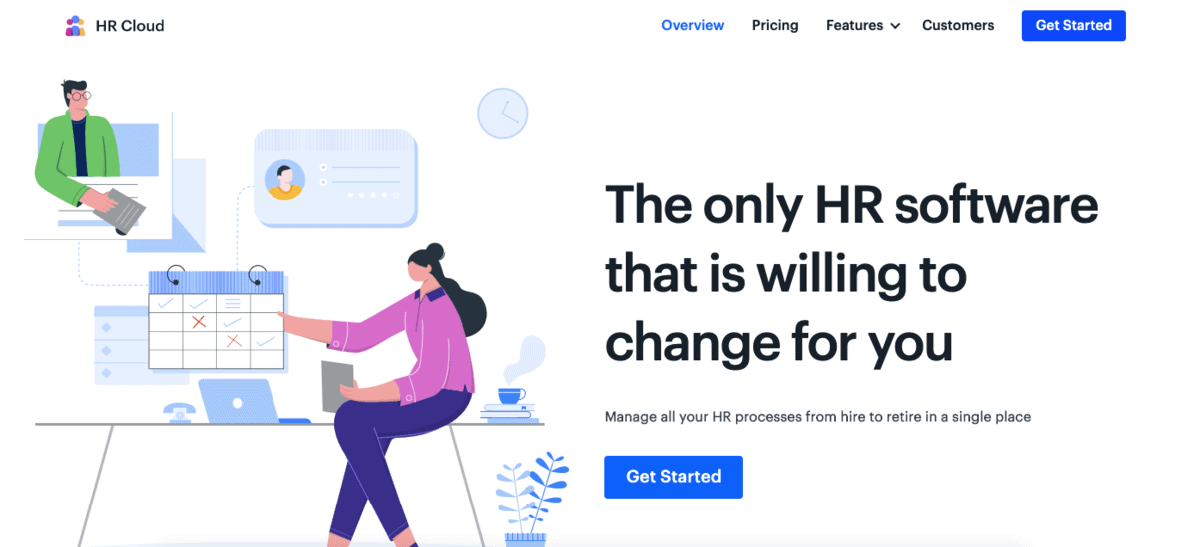 We've reached the #5 slot on our list where last certainly doesn't mean least, especially when you have Kissflow, the kind of software that could easily be a synonym for quality. And why should it be your new tool of choice? First of all, its smart job publishing feature allows you to distribute your ad among numerous portals in just one click. Follow it up with all of the teammates being able to communicate on that matter.
Employee onboarding is crafted to perfection with online functioning, employee self-service, checklists, and workflows included. The performance management tab is also filled with remarkable tools, such as employee performance trackers, review panels, multiple KPIs – everything accessible from the comfort of your dashboard. Remarkable features, a price of $57.5/month (billed annually), simplicity, and quality are only a few reasons why this software could become the new favorite tool in your arsenal.
Overall
If you are looking to give your HR department some structure and overall help they would need, then investing in finding and having a good HR management software could be the solution to the creative chaos. We hope that you would find one amongst these, and if not, at least you can get a sense of what these types of software offer, and what you should ask of them.
Do you have a trusted HR management software that we missed? Let us know in the comments below!