We all know what Instagram is. It is an online social network platform where we can share photos and videos. However, the main goal is to have lots of followers to use that visibility to earn money, simple as that.
Use your #Instagram profile as a #marketplace to grow and promote your #business. Take a look at these Instagram marketing #tools!
But, it is helpful to know that some tools can help you with that. Use Instagram as a marketplace. They are called Instagram marketing tools.
Let us introduce you to some top ones out there.
1. Combin Growth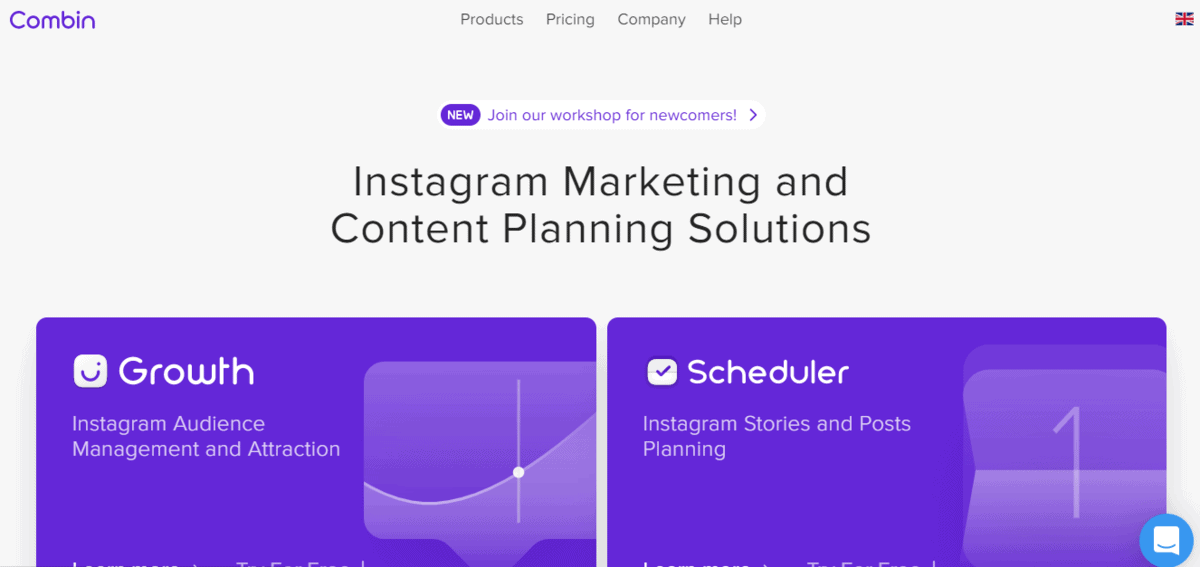 Combin Growth is a vital marketing tool for Instagram to gain more followers and create a community for your Instagram accounts.
This tool has features for targeting followers, management, analytics, and engagement.
It is helpful that Combin Growth can combine hashtags and locations within a single search. Also, it can target Instagram accounts that comment and liked specific posts and find profiles by bio keywords. And this way, target your potential followers. Isn't this fascinating?
You can improve your marketing on Instagram using Combin as an Instagram growth service. Simply by reading reports and then setting your strategy in by their data. It will show you how many likes and comments you receive in one chosen time.
With the free version, you can use auto like or comment up to fifty posts. But you won't be able to use features, like multiple accounts lodged in and getting a lot more search results.
2. Later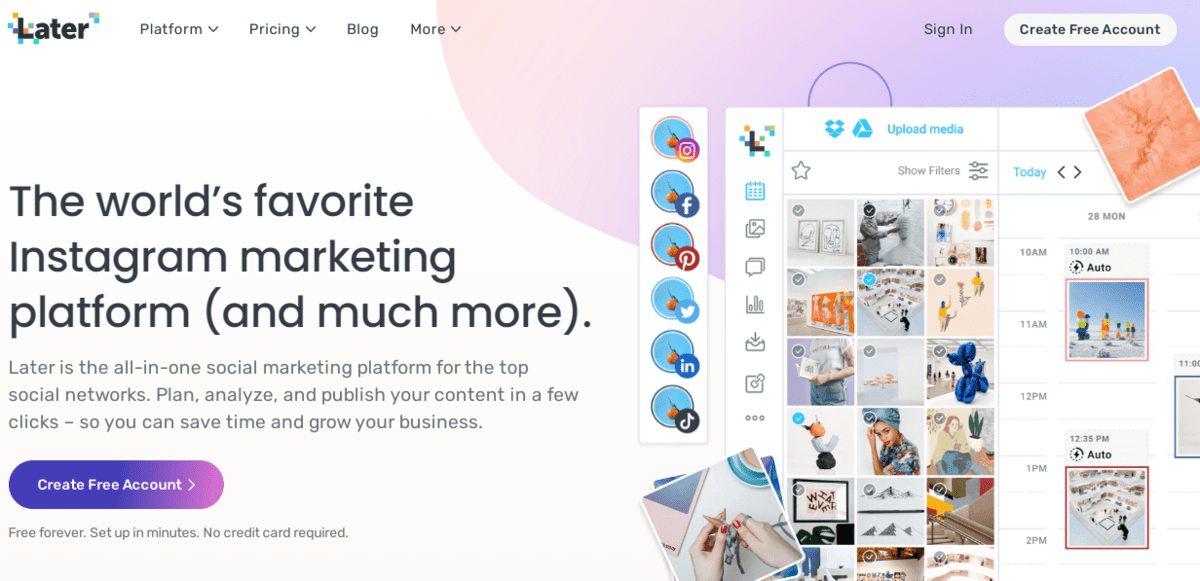 Later is a member of the Instagram Partner Program. It is an all-in-one social marketing tool that allows you to publish, plan and analyze your content.
Also, it is super helpful when it comes to growing a business. Later is designed to help users schedule their photo and video content so their followers will get a better visual experience.
Also, you can choose between free and paid plans. With a free program, you get basic statistics about your Instagram account.
However, if you choose a paid plan, you will get detailed statistics of your Instagram performance. Also, statistics about your audience and Instagram stories that you create and analytics of your Instagram hashtags.
Using Later, you begin every post with an item from your media library. Further, you add your caption with links and hashtags, and later you can suggest the hashtags option as a kind of inspiration for you if you are stuck.
Also, you can create your schedule with Quick Schedule by drag and drop posts into your time slots.
An exciting feature is Search & Repost. This feature allows you to search Instagram posts by hashtags. When you find a post that you like, you can add it to your library and schedule a repost for the future. Furthermore, this way, you can find the right content for your repost.
3. SocialPilot
SocialPilot is a SaaS product that helps professionals and businesses automate their managing of social media accounts. It is a social marketing tool.
However, as a tool, it helps in every step, from publishing posts to analyzing post's performances.
It is crucial to mention that SociaPilot offers you five plans: Individual, Professional, Small Team, Agency, and Enterprise. The difference between plans is the number of team members that can manage from 25 to 100 social media accounts.
The individual plan lets you manage five accounts. Depending on your company needs, you will have to schedule a telephone call to discuss terms and prices for the Enterprise plan. Also, you can get a free trial period of 14 days.
SocialPilot is an excellent tool for teams that need to manage social accounts for many clients and many posts for marketing needs. It allows you to schedule posts and Instagram stories.
4. Awario
Awario is a tool that takes a different approach from those mentioned above. It is a listening and monitoring tool primarily created to help brands access data for their business, which means an inside look at their market, customers, and competition.
It is an excellent tool for marketing research. It will quickly help you find any mention of a product or service you offer or work for. Furthermore, Awario gathers pieces of information from websites instead of you, improving your efficiency.
Also, you can create alerts, get notified when mentioned daily, monitor campaigns. It can even discover new markets for you. Awario is fit for small to medium bossiness to track, monitor, and find sales opportunities.
However, Awario doesn't have a free version. Their plan starts at $29 per feature per month.
5. Buffer
Buffer is a software application, and it is designed to manage social network accounts. This way, Buffer allows users to schedule posts and analyze their results and engagement in the community.
Also, Buffer offers many valuable features for Instagram, like visual planning for stories, and it can schedule your first comment.
When you connect your Instagram profile to Buffer, you can use direct posting to publish or schedule photo posts with a capitation. Buffer will automatically post content on your Instagram account.
6. HootSuite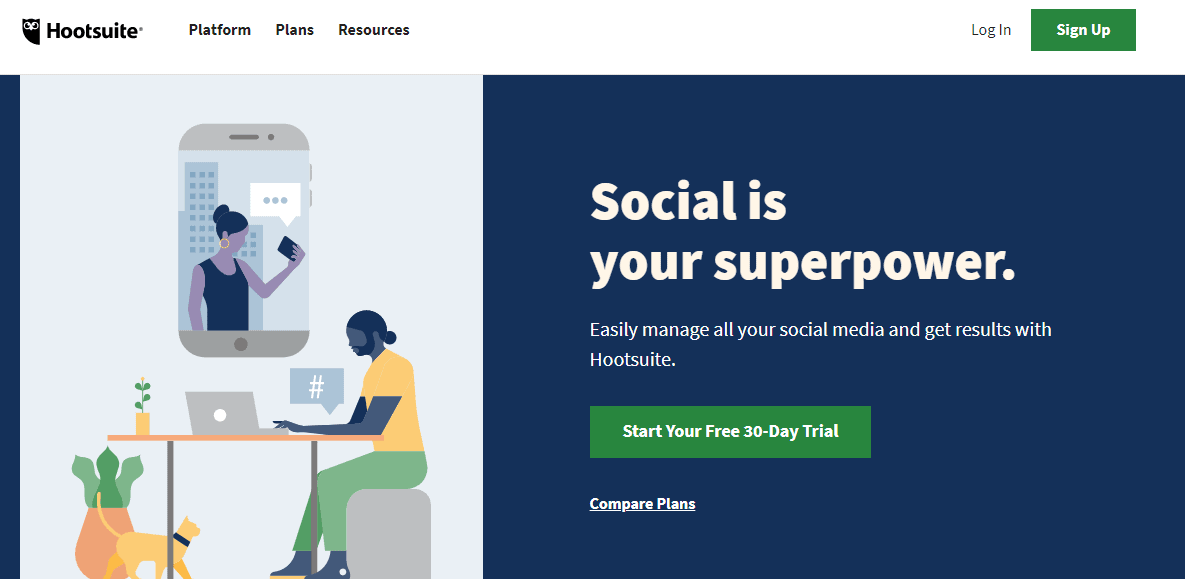 HootSuite is a social media managing tool launched in 2008. The simplest way to explain it is, HootSuite is a tool to manage multiple accounts. If you are looking for an Instagram scheduler, HootSuite will be the right choice for you.
One of the HootSuite advantages is its free plan, which gives the user a dashboard for three social media accounts. Amazing!
But as you use Instagram for the business, you will need more than three profiles. However, you can always upgrade to one of the paid plans. Once you upgrade, you will get unlimited scheduling for social media. All paid plans have a free trial period of 30 days.
7. Kicksta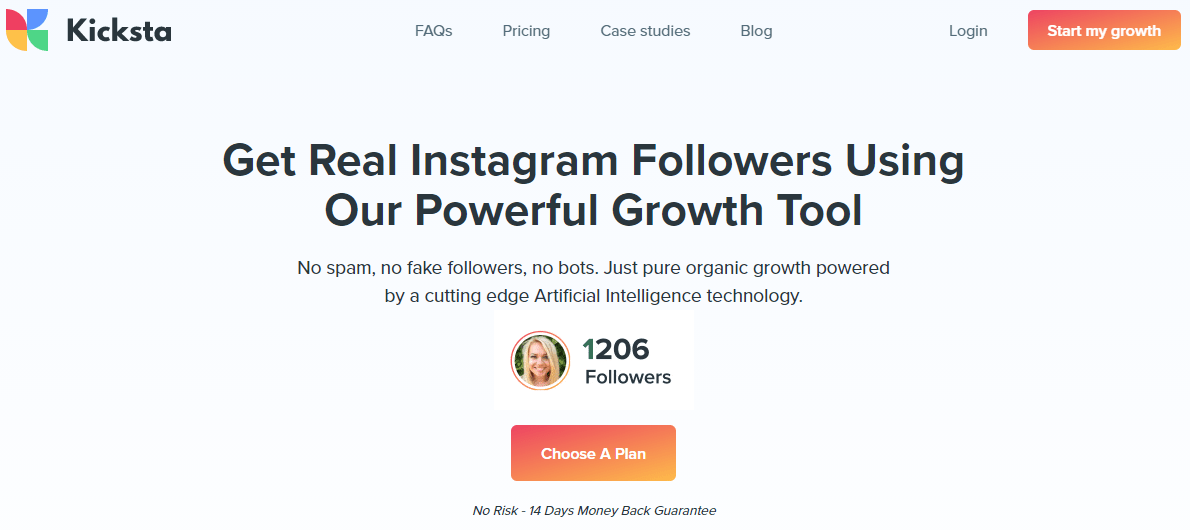 Kicksta is an Instagram growth service that uses AI technology for "likes" that Instagram allows for an account.
Also, Kicksta will rate performance with small icons by your targets (Excellent, Great, Good, Poor, or Very Poor). It lets you know when they liked photos of all target followers to add a new target.
Kicksta is extremely easy to use. When you sign up, you add "targets" These targets represent Instagram usernames, hashtags, or locations. Then Kicksta will like 1 or 2 photos of each "target." When people see their photos liked, there is hope that they will look at your account and follow it.
You will gain new followers, the real ones, because they choose to follow you. However, filtering and targeting options make it easier to select people or content you like to engage with.
Kicksta has an online dashboard, so it is easy to track your progress. When you have some questions about improving your performance, Kickst offers a good customer support team for you to use.
Conclusion
In today's world, everyone knows about Instagram. Some use it as a perfect place to interact with others, but some make the most out of it and turn it into an online marketplace.
Instagram has a significant role in our online world as a marketing and business tool to earn money.
So if you consider it to be your way of promotion, choose wisely between offered marketing tools, as a core of every business is visibility.