Website owners put a lot of money and effort in order for their site to be THE site people land on after typing in a certain keyword or researching specific topics. This requires a great site, great SEO optimization, and a great landing page.
The purpose of a landing page is to convert leads into customers on your site and rule out the possibility of them visiting a competitor's site.
A good landing page is usually very simple, consisting of a very small amount of text and a few CTAs.
Since its main purpose is for the visitor to take some sort of action, overcomplicating the design could divert from its main purpose. A user will be led to your page through searching or by clicking on a paid advertisement like Google ads, Facebook ads, etc., and now your main goal should be providing them with a good user experience as soon as they visit your site and making sure they know what action to do next because what is the point of them visiting your website if no interaction or action with it has been made. There is a variety of landing pages, coming soon pages, under construction pages, lead capture pages, and you can have different landing pages on your site for different searches people make, but knowing all that means nothing if you don't know how to create a landing page.
How can you build a landing page?
Like building any page, there are a few routes you can take in building your landing page. First, you can decide to do it on your own if you possess enough programming knowledge and have enough time and will to put in the required effort or you can decide to hire a web designer or developer to do the job for you if you have enough money to do so since they do put a hefty price on their services. Another way is to use a landing page builders which are going to be the topic of this article.
Landing page builders are a tool that will help you create beautiful and effective landing pages without much effort in no time. By using a landing page builder, you can build a page specifically to your liking and incorporate virtually anything you want in it like forms, email, CTAs, live chat, blogging, navbars, pop-ups, and other options and features.
Landing page builders come with a variety of pre-made templates that are customizable and responsive. To customize a template or to build your own from scratch (be careful with this since you run a risk of building a visually unappealing site if you don't have solid design knowledge) won't require you to write any code since most builders work on the drag-and drop-principle. Landing page builders are not only easy to use, but they are also integrable with other platforms, and sometimes they even provide the service of building ads that you can use to draw traffic to your site.
Another choice you will have to make is between using a web builder or a dedicated landing page builder since both give you the ability to create a landing page.
If you are in need of more than just a landing page, a whole website, for instance, using a web builder might be a good option for you, but if you really have the freedom do decide, and you want to build the best landing page possible, the go for a dedicated builder, and here's why.
Like already mentioned, a landing page is intended for marketing and converting visitors into customers, that is where dedicated landing page builders truly shine.
Unlike typical web builders, landing page builders already have conversion in mind and offer the possibility to integrate marketing tools like content management systems, CRM tools, email marketing tools easily in your site.
If you are any familiar with landing pages, then you are most likely familiar with A/B testing since it plays a huge role in digital marketing. The majority of landing page building tools are aware of this and will support A/B testing. An analytics setup is also another thing that is offered by dedicated landing page builders since they focus a lot more on the marketing support for your website than regular web builder tools.
The dedicated landing page builders won't hassle you with technical details because they know most people are using them in order to create the perfect page in the easiest way possible, but if you are a developer and wish to dive in deeper into your landing page, a lot of builder tools will have an open-source option that will let you make any kind of adjustments you want. Along with everything mentioned above, another thing that you will receive from most companies providing the landing page building tools, you will also receive support because no site is perfect and goes without having a problem during its lifetime. In those situations, it is important to have professionals ready to offer you assistance around any issue and at any time.
Since the title of this article is "Top 5 Landing Page Builders for WordPress", I am sure you are familiar with WordPress and the benefits of using its services. Now we're going to go through detailed descriptions of the top 5 landing page builders you can use to create a perfect landing page for WordPress your site easily.
1.   Beaver Builder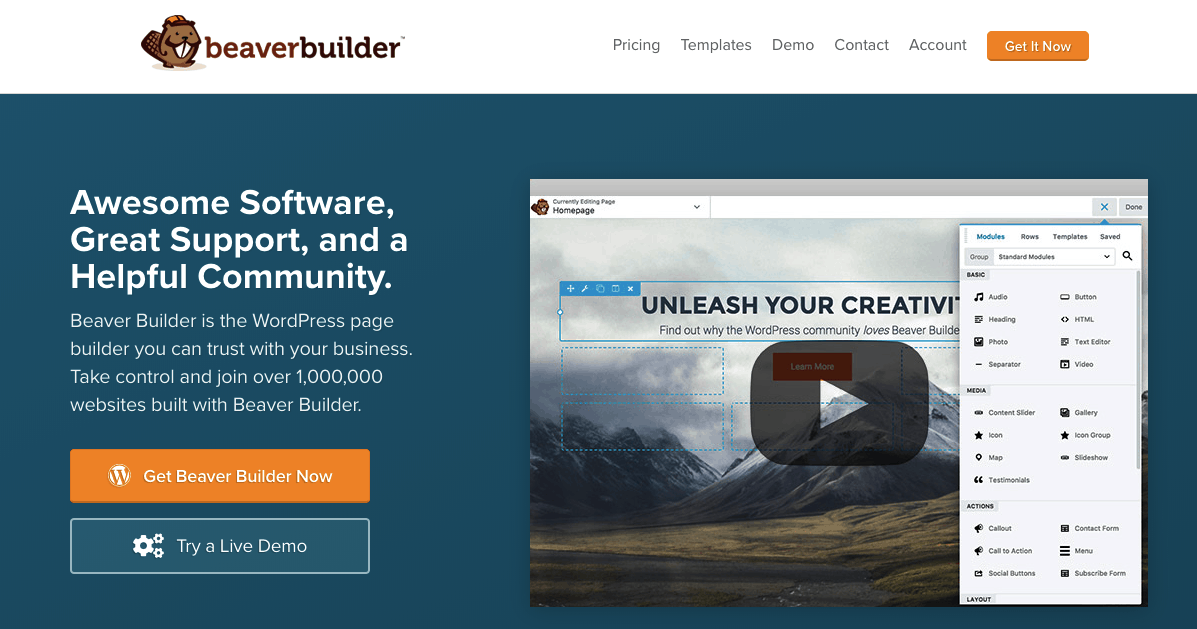 Beaver Builder is an easy to use and beginner-friendly landing page builder for WordPress. It will work with your existing website and can be used on an unlimited number of sites. It puts designing using HTML code a thing of the past since it works on a drag-and-drop principle. Even though it offers a variety of templates for any type of site, with Beaver Builder, you can create your own template, save and publish your design as a template and also use it on a number of sites.
Creating the perfect layout is a breeze with Beaver Builder. It uses a column-based design, and the positioning of layout elements is much easier with Beaver Builder than with the WordPress editor. Any theme you use can be replaced without the risk of losing your content. Even if you decide not to use Beaver builder anymore, your content still won't be lost.
Besides landing pages with it, you can design the inner pages of your site, like pricing tables, contact pages, newsletter sign up pages, about pages, and other types of pages.
The types of content you can put on your pages include just about anything, photos, videos, text editors, audio, sidebars, HTML, and more. If you like to do tweaks to every detail on your site, Beaver Builder will allow you to customize the CSS code and even add your own IDs if necessary. Using Beaver Builder won't slow your site down since it creates sites intended to provide the best performance possible.
You can choose from three types of packages, Standard, Agency, and Pro, which all come with a different set of features and different price points. The least expensive one is Standard starting at just 99$.
2.   Thrive Architect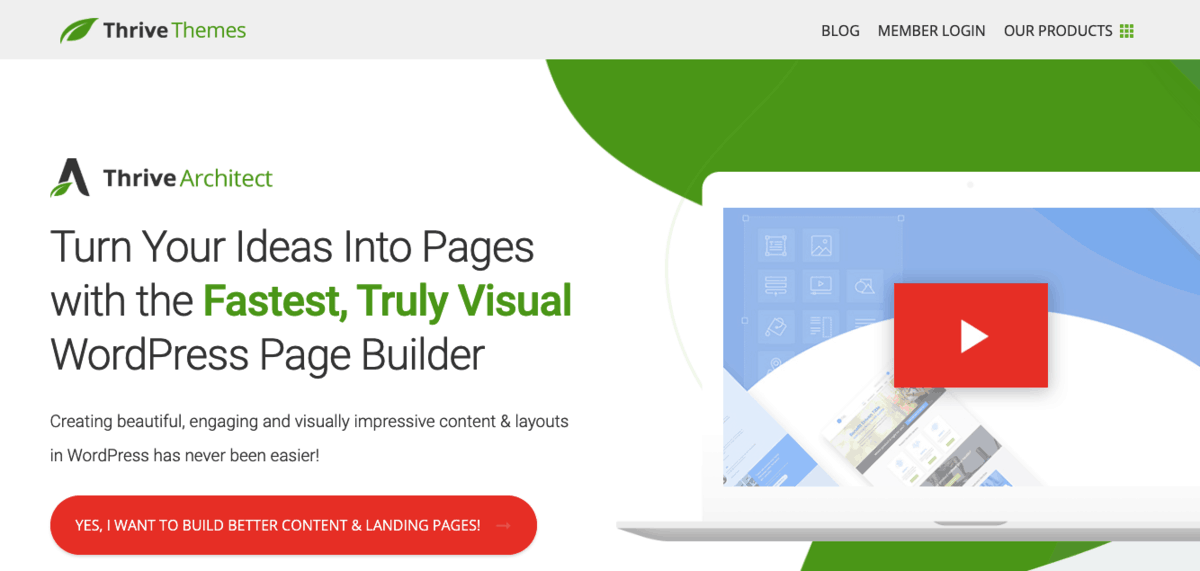 Thrive Architect also provides building and editing based on the drag-and-drop method. You can choose from 320 designs specifically made for landing pages, and 700 custom fonts along with an advanced font editor. Every theme comes with conversion elements built in such as buttons, testimonials, countdown timers, email marketing tools, and more.
The layouts are based on a flexible column layout without any column containers, sections, segments, or rows. You can create a full-width layout regardless of the theme and use images or color, and gradient color overlays as a background. Animations, animated text, and hover effects can also be added. Basically, every detail of any element is easily customizable with Thrive Architect.
Even if you decide to create a completely custom layout, it will be responsive thanks to the mobile responsiveness features. You can preview your landing page on any screen size and also use the mobile responsive editing, allowing you to make adjustments while previewing in specific screen size. Elements can be made visible or invisible at specific sizes without having to deal with any CSS code. Thrive Architect helps you optimize the performance of your site by removing unnecessary plugins and offering A/B testing.
It comes in three packages, and all options come with different features, but all come with unlimited free updates and conversion elements included.
3.   Unbounce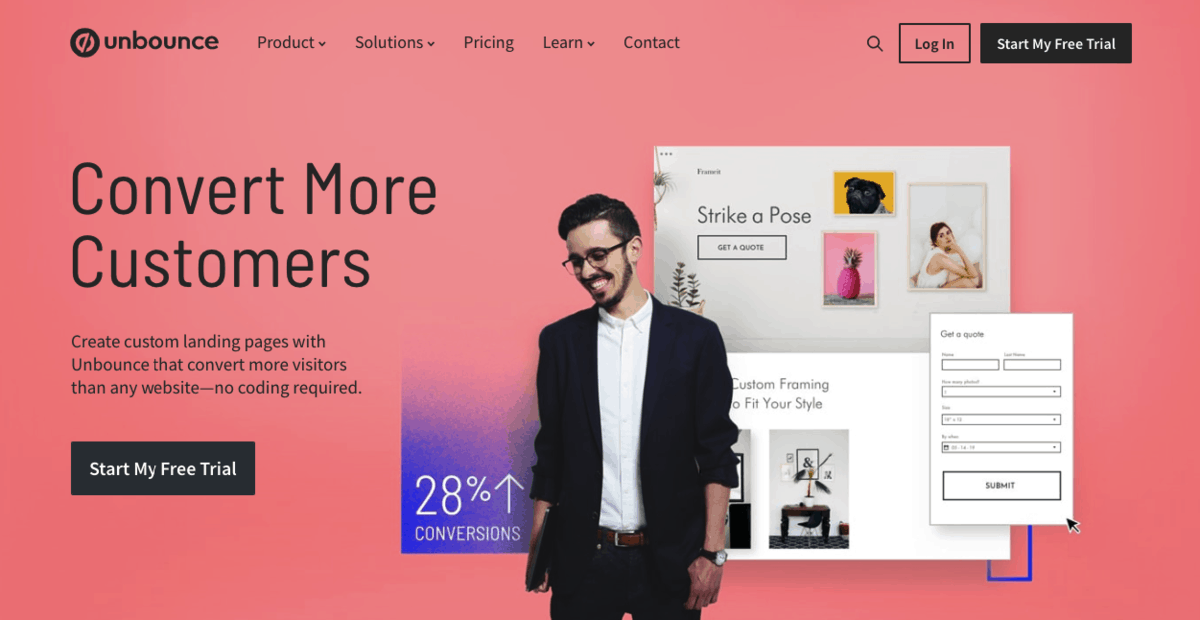 With Unbounce, you can set up the perfect landing page in a blink of an eye using drag-and-drop and conversion-optimizing tools like A/B testing, keyword insertion, targeted popups, and sticky bars. There are 100 responsive landing page templates, or you can create your own, either way, they will be responsive by default.
Unbounce has fast loading and reliable uptime, so you don't have to worry about your landing page is unavailable.
One great feature of Unbounce, along with many others, is the dynamic text replacement or dynamic keyword insertion, which changes the copy of your site based in the ad that led the visitor to your site, removing the need to create multiple sites.
There is a variety of solutions to choose from, and Unbounce makes making that decision easier for you by separating them into two groups, solutions based on industry and solutions based on use cases.
If you aren't ready to commit instantly to Unbounce, they offer a 14-day trial, so you can test out everything on your own.
It comes in three varieties, Enterprise, Essential, and Premium, and can be paid for on an annual or monthly basis.
4.   Leadpages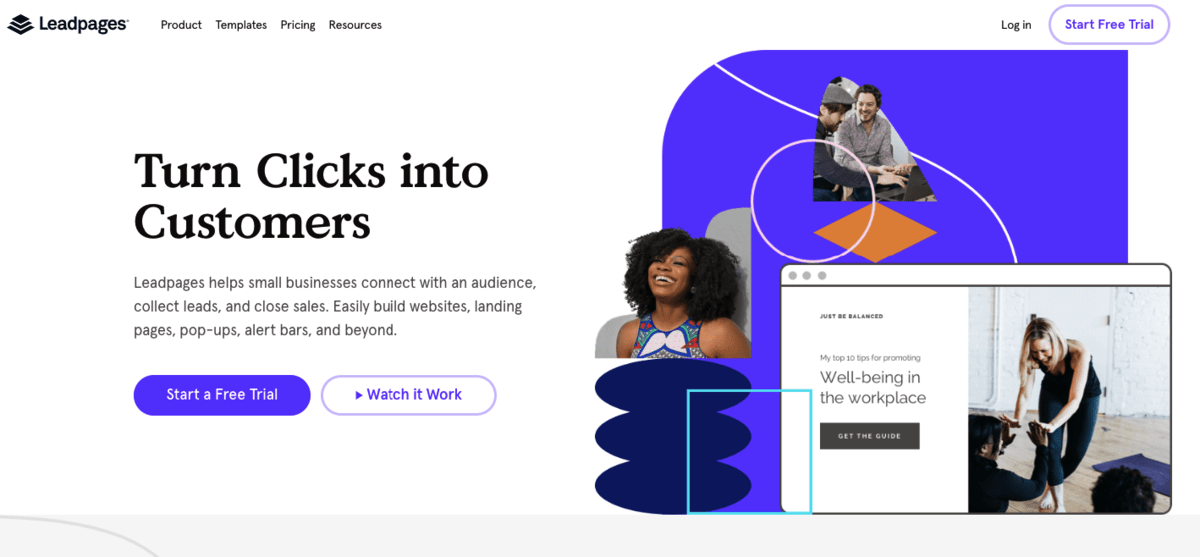 Leadpages offers a code-free online landing site building services and free hosting on their domain with your Leadpages account. It supports the growth of your business and site by not increasing the price regardless of how much traffic your site receives. With it, you can include an unlimited number of popups and alert bars on your site and use it to build ads for Facebook or Instagram.
It comes with SEO friendly templates and the possibility for you to edit the metadata of your site. If you want to know how your site and ads are doing with customers, you can use the real-time analytics provided by Leadpages. GDPR compliance won't be a headache anymore since all of its sites are GDPR compliant, and you can incorporate checkboxes in any form you create.
Because Leadpages wants you to be sure this is the right solution for you, it offers a free trial along with 24h training.
You can make a choice between three plans, the Standard, Pro, and Advanced, with the Standard plan starting at only 25$ a month.
5.   Instapage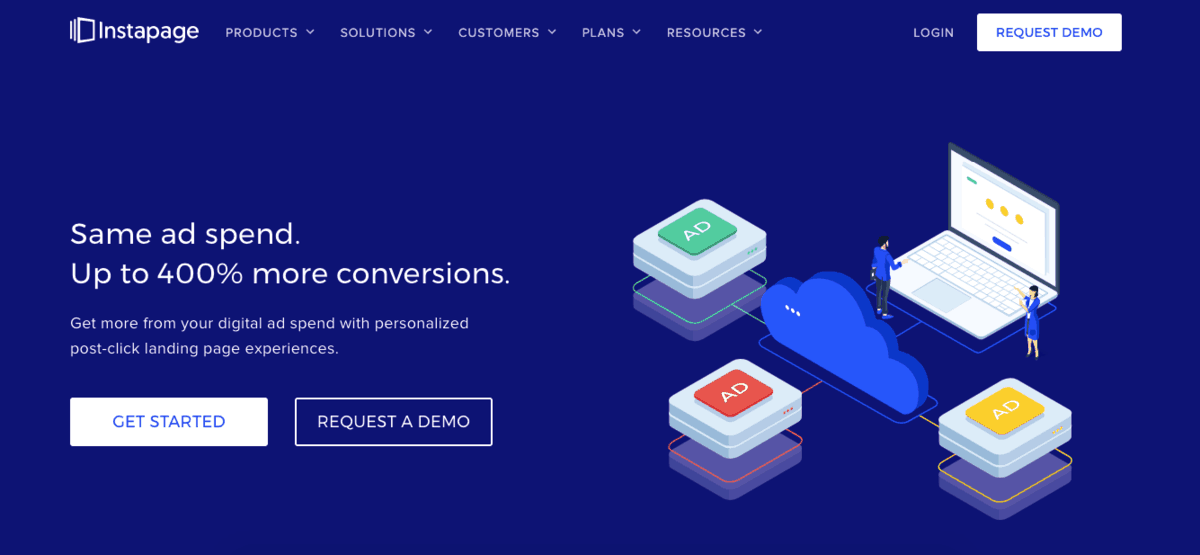 Instapage will allow you to create dedicated landing pages for every ad click or type of audience, creating a relevant and personalized post-click experience every time. It promises an increase in your conversion rates by 400%.
All your ads on any platform and dedicated landing pages on Instapage will have automatic push connection updates between them, so you won't need to track necessary updates manually.
With its Instablocks technique, you can create block templates for call-to-action forms, testimonials, and much more, and you can reuse the templates across multiple pages.
Instapages also gives your landing page seamless integration with marketing and analytics tools and help in improving your site by using their A/B testing and heatmaps capabilities.
Conclusion
Now that you have been presented with a number of great options for creating your landing page, I am sure making the right choice for your site won't be a difficult task. You coming to the realization of how important it is to have a great landing page is already a step in the right direction because, without one, all your efforts put in marketing won't mean a lot since, without a landing page, all your advertising will be in vain. So be smart and create a landing page specifically for your audience because those are the ones that perform the best, are the most effective, and contribute the most in growing your business.