All websites contain a huge amount of data that is insanely valuable to a certain online surfer. That could refer to a few different things, but I'm pointing towards that data that gives away the intentions of your competition regarding their prices, listings, their reputation, contacts, and all kinds of stats that you desperately want to get your hands on. And there is nothing wrong with that.
Sports betting, contacts, details…there is a ton of different fields that all come together around one big campfire called "data. " When you brew a few liters of coffee, prepare your mind for hours of straining and say goodbye to your eyes, you are ready to begin the manual process of collecting that data. The results could be huge, and your sacrifice might be the tiniest if you achieve your intentions. That process of scraping data from websites is called web scraping, and it involves collecting the valuable data from its messy and unorganized form into a shiny, spotless format (a spreadsheet, for example).
When you scout out the info you want to acquire, will the website owner serve that data to you for taking? Of course not, don't be silly. The manual process is tiring, long, and could take hours and hours, which is why engaging in that mission is considered as a high risk of being compromised (getting completely pissed off and abandoning the scene). But, if you decide to take a different approach and extract that data by using software, the story could have a completely different twist.
By using a web scraping software, you gain access to all of the data that will be automatically sorted and extracted to the desired format, within a few simple clicks.
There are more than a few options when it comes to picking the ideal web scrapping software, but stay focused because we are going to get through the seven best ones to help you fulfill your objective:
1. Scrapinghub
Data extraction with precision and reliability, as fast as you like and perfectly suited for all sizes of business, is what Scrapinghub is all about.

Regardless if you are amongst the big fish or just starting off, this tool will do its job flawlessly, just set your requirements, provide the website with data that needs scrapping and let it to the rest. Real-time market information, price monitoring, branding, building a data-driven product, and so many more goods are unlocked by purchasing this software, and with satisfied clients like Zeus, Gartner, and OLX, you should definitely check them out.
2. Webscraper.io
When you seek a modern approach with an accent on simplicity and accessibility, but still enjoy useful features, Webscrapper.io might be just what you are looking for.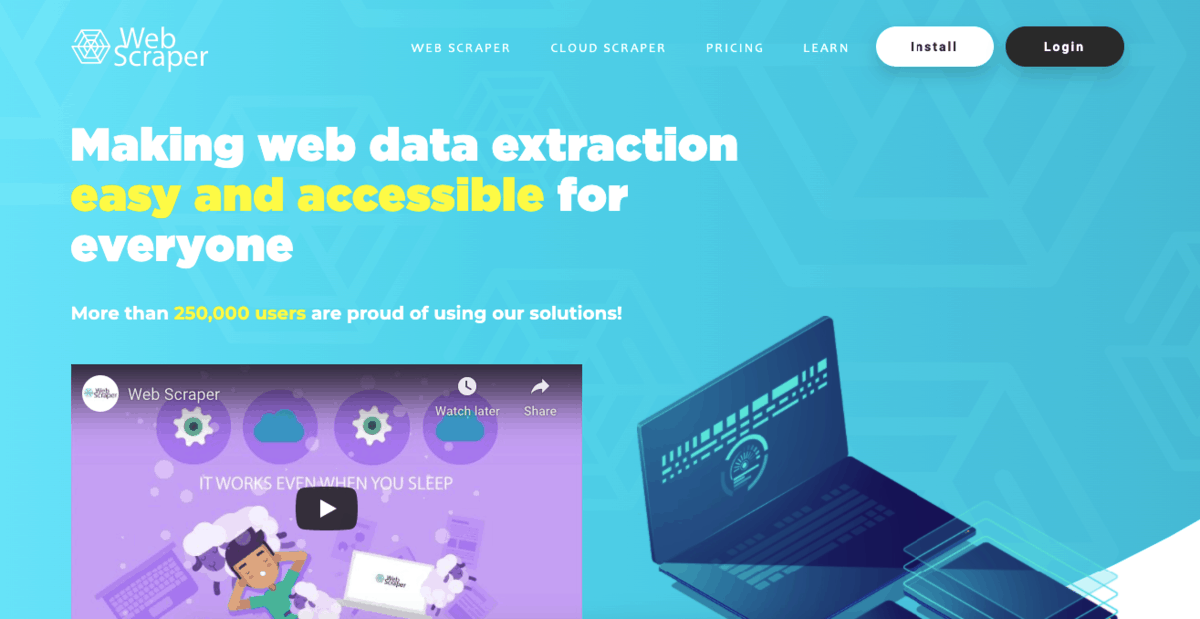 The interface is designed in a "point and click" manner, so learning it will be a walk in the park. Data is extractable from all categories and subcategories, pagination and product pages, offers a scheduler for hourly, daily or weekly scrapping, manages through API, offers IP rotation, and a parser for data streamlining. With more features for you to exploit and over 250,000 satisfied users, this software definitely requires your attention.
3. Scraper API
A fully customizable tool that can handle even the most requiring requests will always deliver with flawless results and is packed with features – meet Scraper API.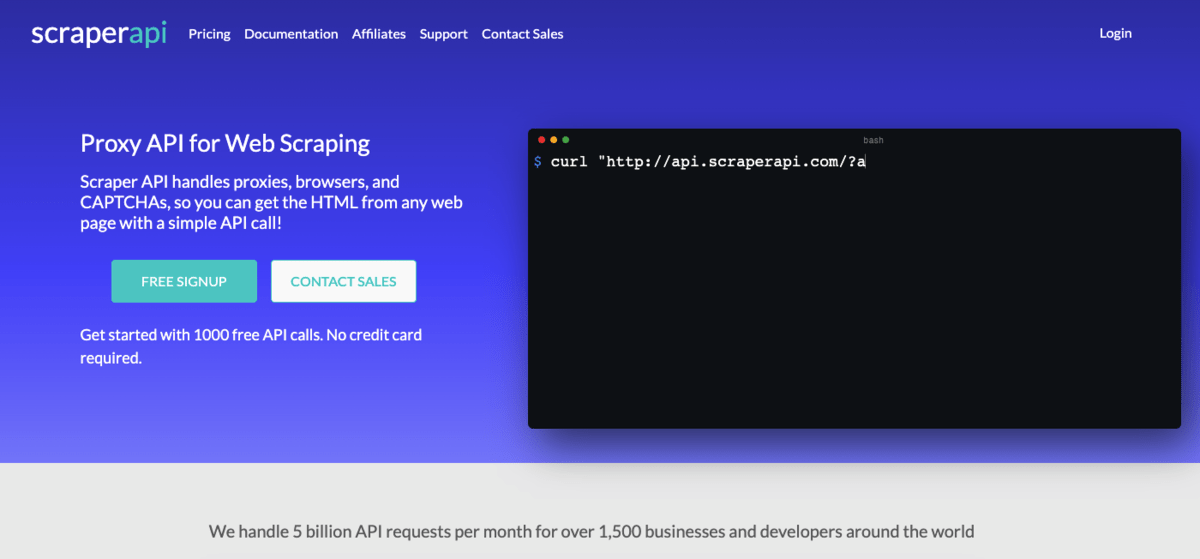 It automatically rotates IP addresses and retries failed requests, which is why IP blocks and CAPTCHAs don't pose a threat to this well-manufactured powerhouse. You can shape it to your own will, access speeds of over 100MB/s, geotarget 12 different locations, scrape with a simple API call, unlock unlimited bandwidth, and the list of features goes on and on. Amazon, Volvo, and LegalZoom are only a few of their business partners. Will you become one of them as well?
4. Diffbot
When software is given an epithet of a "developer's best friend, "you know that something special is coming your way. Gathering business intelligence and extracting data with Diffbot becomes simple and efficient, considering the features it offers.
The Diffbot knowledge graph, for example – a precise and extensive database of companies, products, people, images, articles, and so on. AI Extractors for gathering structured data from any URL. Or tens of thousands of domains to scale up your extraction. eBay, Cisco, Yandex…many hotshots are alongside this software. Is that enough for you to join the pack?
5. Import.io
Quick? Check. Simple? Check. Efficient? Check. Exceptional support? Check. Tons of satisfied clients? Check. Import.io is a web scraping software that excels in fast completion of the task, automatizing the process with minimum effort and delivers the data in precise charts and dashboards to provide accurate insights.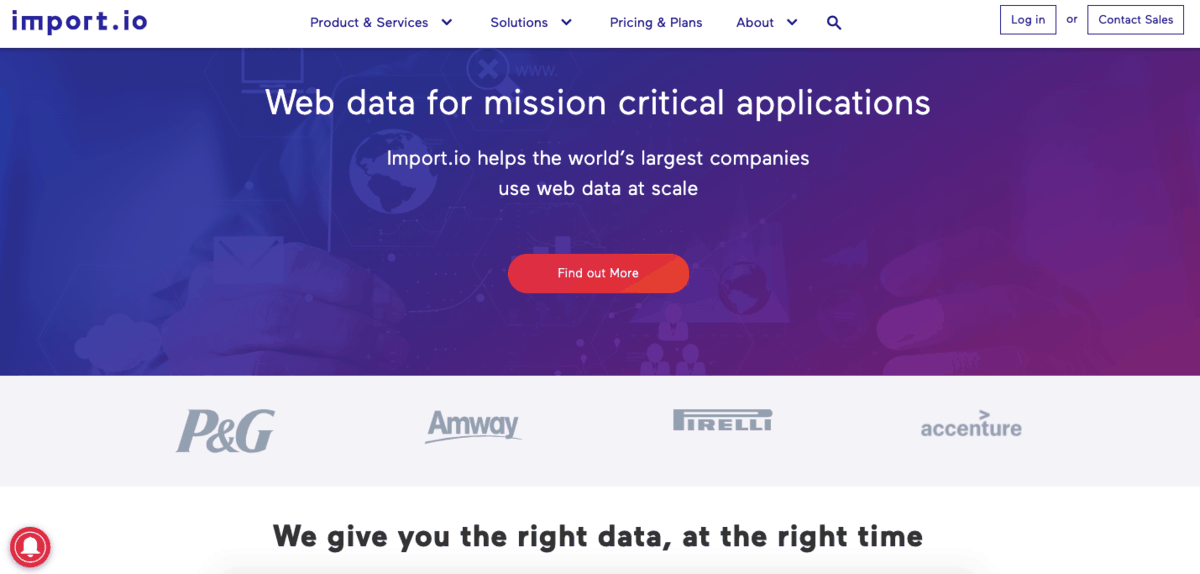 Complicated data extraction transforms into a basic activity, and with the onsite training available, you will master this software in no time. Simply enter the websites you need the data from, set the parameters, and enjoy your day off because Import.io will do the rest!
6. ParseHub
Another powerful tool to get your web scrapping tasks automated and effortless is ParseHub.
Not a single AJAX or JavaScript page can escape the radar of this bad boy, regardless of how comprehensive or laggy it might be. You are not the coding type of guy/girl, and clicking is your way to get around? You've come to the right place in that case because ParseHub doesn't require a single line of code to be written. All of the data is collected and stored on their servers, IP rotation is on-site, data is available in any desired format…enough said, check them out!
7. Mozenda
We complete the list with Mozenda, a software trusted by thousands of businesses, packed with 5-star reviews, and ready to become your handy helper in web scrapping missions.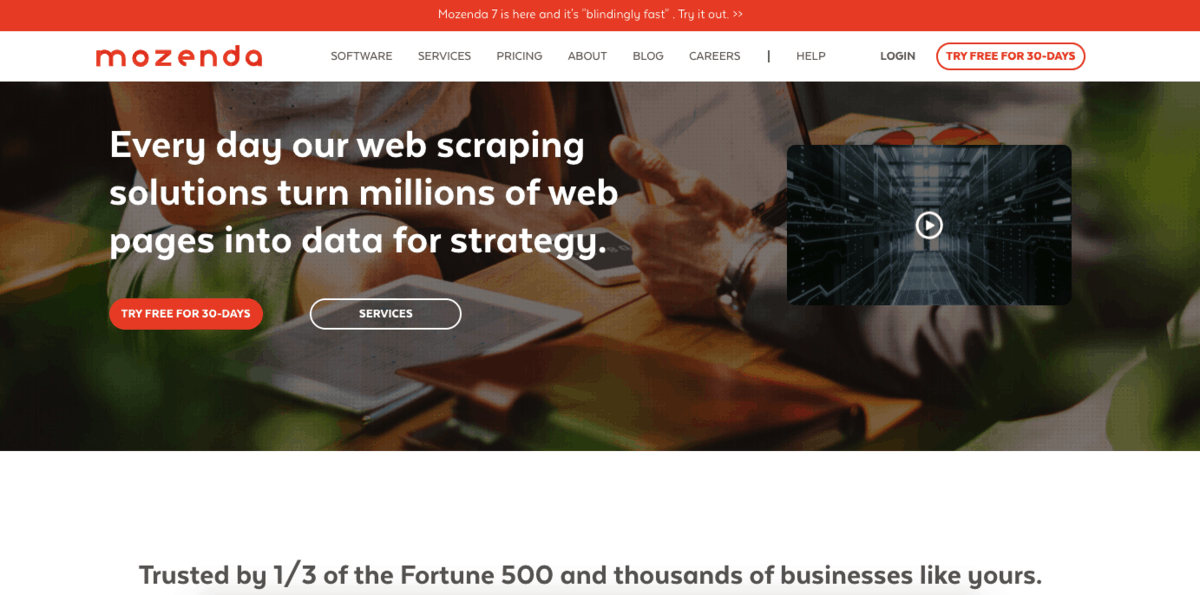 The point and click feature simplifies the entire process, the data is structured and organized, and the boost in speed when it comes to data extraction is unmatched. Mozenda is easy to learn, offers great functionality and usability, and with the features and possibilities that you access by purchasing this software, you will fall in love with this software from the first use – guaranteed.
8. Scraping Robot
Scraping Robot is an awesome cloud-based data scraping platform that scrapes publicly available data from Google, Facebook, Amazon, Home Depot, AliExpress, Twitter, Walmart, eBay, YellowPages, Wayfair, Crunchbase, Indeed, Instagram, and many more!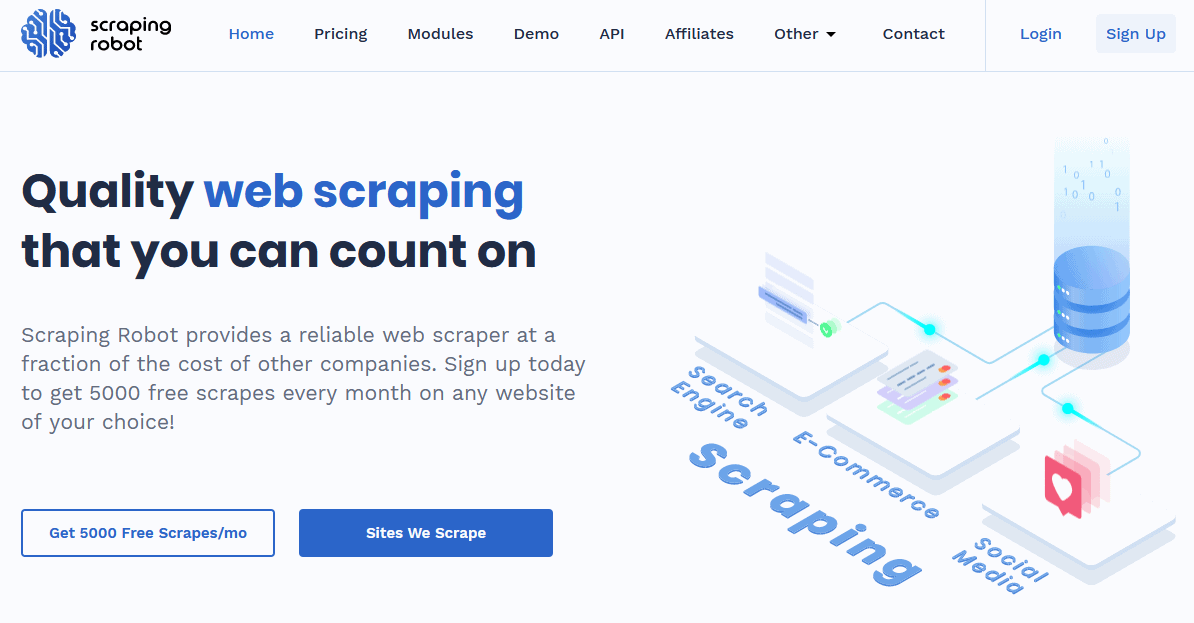 Scraping Robot simplifies web scraping projects, so all you have to do is enter a search term, a keyword, or a list of pages that you want data from, and it retrieves it automatically!
Be sure to sign up for a FREE account on Scraping Robot today, and get 5,000 free monthly scrapes!
Please make sure that the,
Overall
Web scrapping is one hell of a process when done manually. It will take an insane amount of time and patience to complete a task that could be done in a much faster time, with pretty much zero effort invested by you. All of the mentioned tools will do a great job to automate and simplify the process to leave you with a clean and organized file, with all of the data ready for comparison, analyzing, and utilizing.
They offer different features and focus on different key points. Some are known for their simplicity, some for their features, some for their low price, and some focus on efficiency. It's your job to find the one that fits your needs the best, and by creating the ideal environment, make web scrapping as easy as ABC's and crash those results with insights that will undoubtedly make a difference.