In today's article, we would like to discuss problems you might face when owning a WordPress site. But, along with that, we will also present you with a tool that makes these problems solvable with only a few clicks.
Can't access your #WordPress site? The Emergency Recovery Script is what you need!
What Is Emergency Recovery Script?
The Emergency Recovery Script is a special standalone file that works independently of WordPress and can be used when you are facing problems with signing in, unfunctional sites, errors, and much more.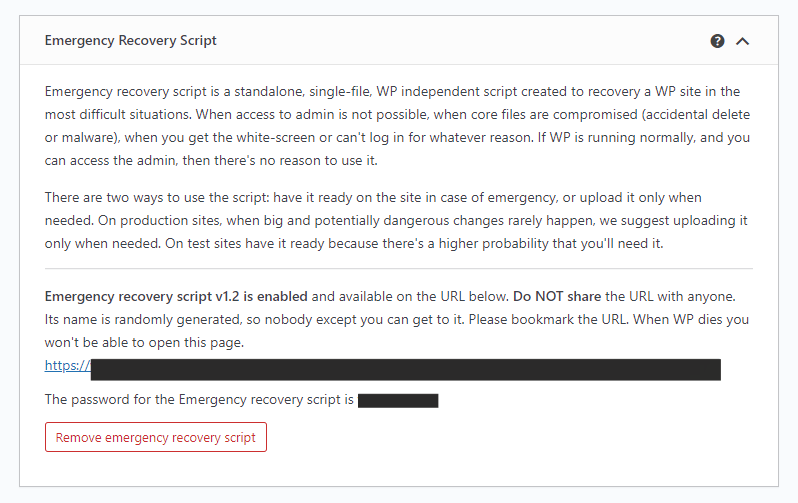 It allows you to solve major problems without spending more than a few minutes of your time, changing any files, working on the database itself, and writing a single line of code. This also saves you from the trouble of having to totally reinstall a site and possibly lose your site's data.
What Can Emergency Recovery Script Help Me With?
The list of situations in which ERS can help you is pretty long. We will present you with a few of them that are most common.
The first situation is missing some core files, which might have been deleted, changed, or moved. In this situation, ERS helps you by listing all of the files that might be changed or missing.
If you would like to see a video of how this whole process looks like, you can check it out right here.
Some other things that could lead to possible problems with your site include installing new WordPress updates or updates of certain plugins, which can mess up the whole WordPress installation. In these situations, you end up with sites that are not working and/or are showing an error page. Either way, it is on you to fix the problem. Luckily, you do not have to spend a ridiculous amount of cash on other people to fix it for you; instead, you can simply achieve that with one click using ERS.
It reinstalls a site's core files or resets WordPress to its previous state. ERS can also help you if you are suspecting that more than one plugin is crashing your site. ERS will inspect and identify exactly which plugin it is.
It also helps you deal with tons of login problems that you might face. Such as not being able to log in at all, logging in but not having any administrator privileges, logging in and realizing the admin dashboard is empty, and so on.
You can check out all of the other problems that can be solved with ERS on the official website.
Tools Offered by Emergency Recovery Script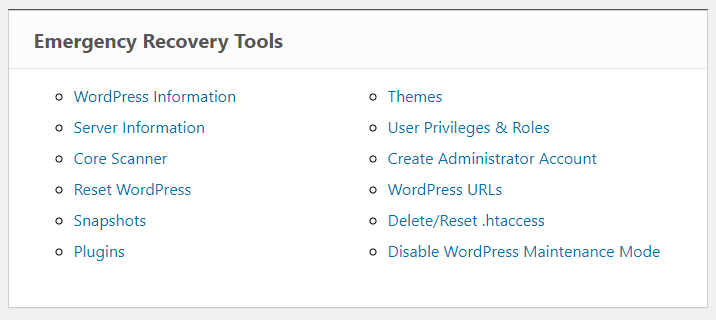 Now we would like to introduce you to all of the tools that ERS offers. All of these tools play a big role in resolving the problems mentioned above.
The first tool is WordPress Information, which gives you an insight into all WP installation information. If you know all of this information, that will for sure help you resolve whichever problem you might be facing.
The second tool is Server Information. This tool gives you information on the server – for example, its PHP and MySQL versions.
Core Files is a tool that goes through every single WP core file and compares it to the master copy on wordpress.org. This means that if even one of the files is changed in any way, ERS will recognize it and point it out; then, you can replace the file(s) in one click. It also locates any files that are not in the right place, allowing you to remove them. This tool works only on core files, which means that if you do have anything malicious infecting your site and it is not in the core files, this tool will not detect it.
Reset WordPress is a very powerful tool. It wipes out all of the data in your database, leaving you with only the default settings. It also deletes all of the accounts on your site.
All in all, it should not be used so lightly, taking into consideration how powerful it is.
Snapshots is an awesome tool that allows you to preview and restore all the database snapshots you have made with WP Reset. This will allow you to take your site to a previous working state.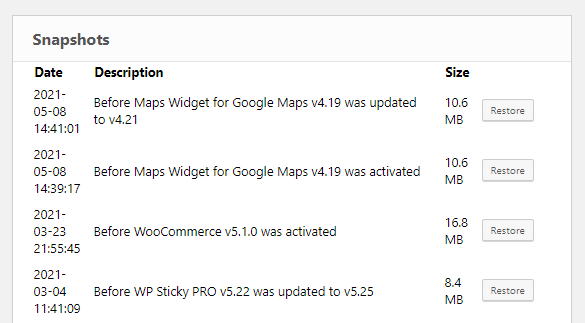 The Plugins tool helps you enable and disable whichever plugin you want when you have even the smallest suspicion it is somehow poorly affecting your site.
The Themes tool works the same way, only with themes.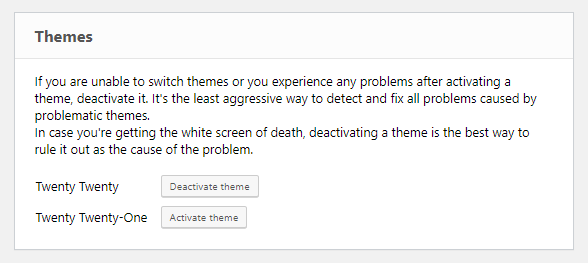 A tool that will soon be added is the Options tool. It finds and edits any WP option you want. That is much easier to do using this tool compared to doing it yourself.
The User Privileges & Roles tool helps you when you are in a situation where you have logged out and are unable to log back in, or you do log in but as a guest instead of an admin. It restores default privileges and roles and matches them to the ones you previously had.
If this tool does not help, you can always turn to the Administrator Account tool. It is one of the most important ERS tools. It creates a new administrator account. All you have to do is enter your username, password, and email.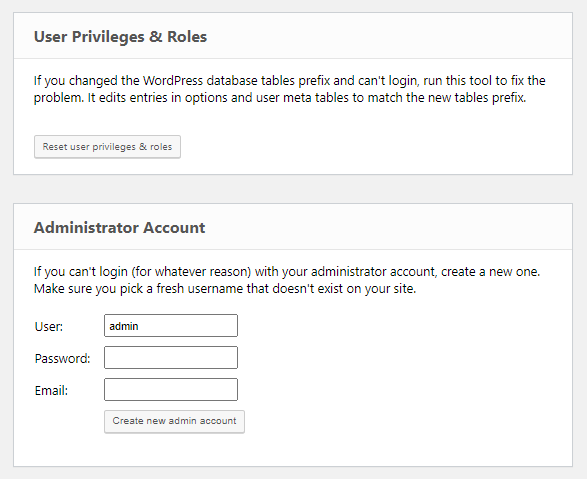 The WordPress URLs tool helps you resolve problems that might occur when changing the site's address and home address. It helps by fixing the URLs and thus resolving the problem.
Delete or Reset .htaccess – you have probably heard of .htaccess before. It is very tricky to deal with since making any kind of mistake can lead to your site displaying the dreadful white screen of death. In this situation, you can either completely delete the .htaccess file or restore it to default values and once again login as an administrator.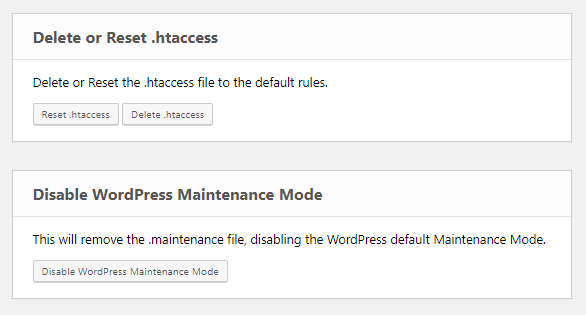 Disable WordPress Maintenance Mode – the maintenance mode is enabled when changes are being made to your site (like plugin updates, theme updates, and more). If everything is alright, this whole process does not last more than a few seconds, but sometimes, this is not the case. Thankfully, this tool helps you out by disabling maintenance mode.
How Do I Get Emergency Recovery Script?
Well, the answer is pretty simple. The free version of ERS is available right here. More information about its installation can also be found on its website.
The whole script is at your disposal when you download WP Reset, making them the perfect combination that resolves almost every possible problem you might have.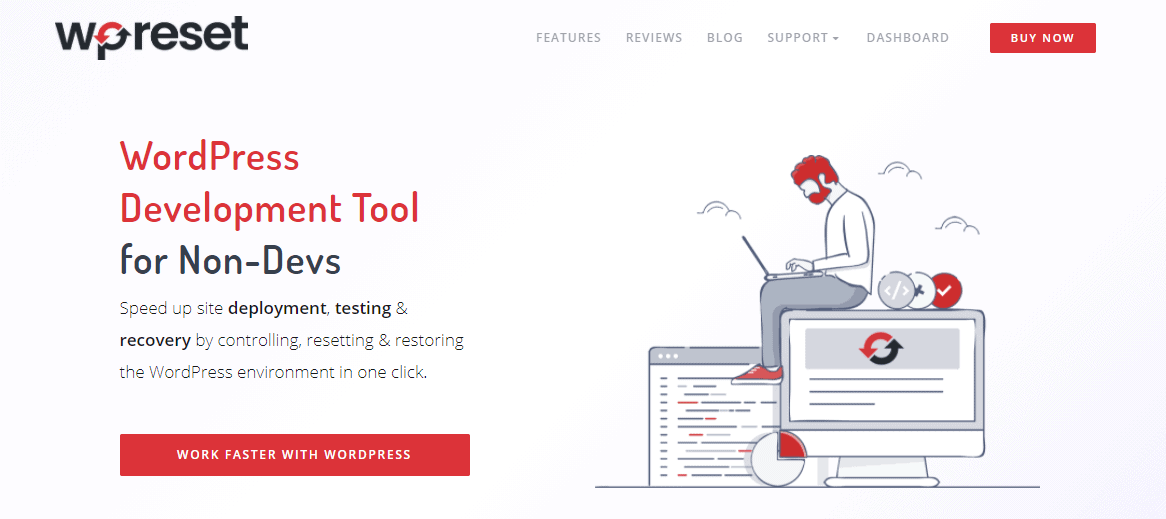 Plus, if a snapshot you have of your site's database was generated with the WP Reset tool, the script allows you to restore it with a click.
FAQ
Is Emergency Recovery Script Safe to Use?
Yes, you and only you receive a secret URL and a password. Keeping that information private keeps your site safe. More info can be found here.
Is Emergency Recovery Script Free?
Yes, most of the tools this script offers are free, but WP Reset is needed for some.
How to Install Emergency Recovery Script?
All you have to do is download the file, then upload it to the WP root folder using FTP. From there, things are pretty simple; you only need to open the URL and type in your password. All the info is provided here.
Conclusion
We have introduced you to ERS and all of its tools and functions. Since it is free, it does not cost you anything to give it a try.
If you own a WP site, we recommend you use ERS to keep it safe from any possible problems.
We hope you have enjoyed today's article and that you will be considering giving ERS a try.